Customers see what they want to. Have a page full of products, and all they'll try to do is zero in on the one item they like the most. The rest of the images are noise as far as the shopper is concerned.
And once they click on that product, everything else is temporarily irrelevant. It's at this moment that eCommerce companies need to step in because shoppers rarely ever find the right dress on the first try.
The right recommendations can nudge them towards what they have in mind and are willing to buy. Irrelevant recommendations can send them down a path of frustration where each click takes them farther and farther away from what they want. We all know that.
What can you do when a shopper is looking at a shirt, but is unsure about it? The natural thing to do is show her shirts that are similar to what she wants (like a friendly sales assistant would). In an online store, this translates to recommendations that are personalized for her tastes based on colors, cuts and patterns.
But how can you do this?
60% of marketers struggle to personalize content in real-time, yet 77% believe real-time personalization is crucial.
The struggle is real.
Fashion is Visual – Make Customers Happy with Visual Recommendations
What if an online recommendation system can suggest items based on what a product looks like?
It would be much, much easier to serve real-time personalized content. And that's exactly what Vue.ai does. With computer vision and artificial intelligence, Vue.ai's visual recommendations are the easiest way to show your customers visually relevant recommendations.
Wait, what does that mean? It means Vue.ai's visual recommendation engine can 'see' the product the customer is looking at, pull up products from your catalog that look like it the most and display them on the product page.
Maybe your customer would like an option with longer sleeves? Or one with a different neckline? Now you can answer these questions before they even have to ask. Personalize online product recommendations in real time by identifying the colors, cuts and patterns that customers wants, and showing them exactly what they are most likely to buy.
In short, you can maximize conversion rates and facilitate meaningful engagement by matching the right clothes with the right customer, at the right time.
And You Get a Whole Lot More!
Vue.ai's visual recommendation system has some great features for store owners that will help you set up, track and use visual recommendations to reach your goals.
Multiple stores? Manage them all in one place!
Download Vue.ai open source recommender engine and you can use visual recommendations for all your Magento stores at once.
All you need to do is add all your Magento stores and you're set. You can then turn on or turn off online product recommendations for each store when you want to. It's as simple as flipping a switch.
Product clones need handling? We're on it.
Our online product recommendation engine's 'Duplicate detection' can identify identical product images and group them together. Then it's upto you to decide whether you want to stop showing clones, or if you'd like to categorize them to help customers find good deals.
Trouble tracking results? Not anymore.
You can check exactly how our visual recommendation system is performing, once they're up in your store.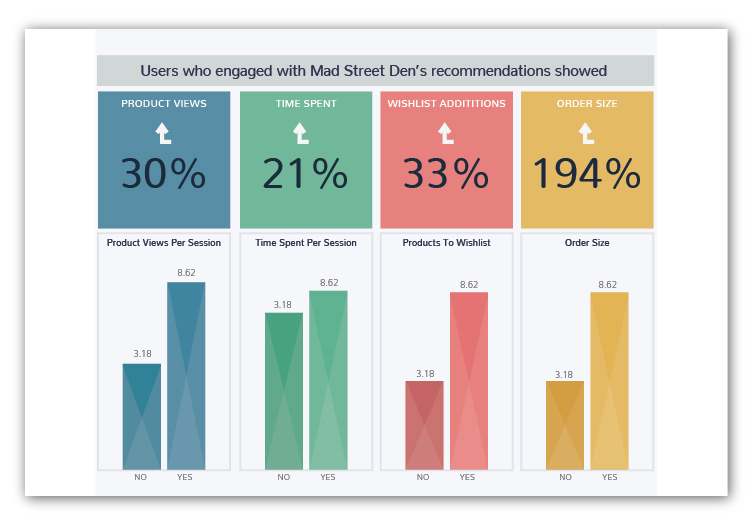 You don't have to rely on one-dimensional statistics either. We give you the big picture by comparing the time spent on your site, number of products viewed and more for products where people have engaged with visual recommendations with those where they haven't.
And the installation and onboarding is extremely simple. Just download the online recommendation engine, install and choose your Magento store. And we'll take care of the rest.
Ready to give it a spin? Try our 21-day free trial! To learn more, read about Vue.ai's other offerings here.

Realated Posts