Once the most mode of media consumption, the big black box ( "the television") is slowly taking the back seat.
The viewership of conventional television is shrinking fast. Over-the-top and video streaming platforms are replacing satellite-based televisions.
So, what facilitated this transformation?
Well, there are two major driving forces behind this transition to the rise of video streaming app development.
One is high-speed internet at affordable costs.
Two, internet-powered smartphones' affordability.
Did you know?
By 2027, the live-streaming market is anticipated to be worth $184. 3 Billion – (Businesswire)
In Spain and Austria, Video and TV streaming consumption increased by more than 40%, while Germany had a 32% increase. (Statista)
Forecasts indicate that live videos will account for 82% of internet usage by 2022, suggests whatsnewinpublishing.com
In 2022, the video streaming market is expected to be worth $50 Billion. (Fact.MR)
Internet penetration and affordable smartphones have laid a strong foundation for online video streaming platforms.
OTT platforms leverage the internet to deliver content directly to users and provide a buffer-free streaming experience.
Working on the principles of " on-demand content," the online video streaming platform has a significant advantage over the traditional cable subscription as they provide users more autonomy to watch their favorite content without any time or place restrictions.
The Video-on-demand (VOD) mobile applications are online video platforms that allow users to stream their favorite content from a pool/library without any restrictions on 'when' and 'where' they can access the content.
The users need to install the Video streaming apps and choose a video subscription service plan based on what type of content they want to watch.
There is a growing demand for video content by internet users worldwide. You can assess it from the fact that the mobile Video streaming app category on the app store witnessed a massive surge in the number of apps available for download.
The figures for Android video streaming apps are even higher as Android dominates the share of mobile markets worldwide, approximately 74% of the overall share.
---
Recommended Read: What is Video Streaming & How Does It Work?
---
Top 10+ Best Platforms To Develop A Video Streaming App in 2023
How To Build A Video Streaming App In 5 Steps (2023)?
We will focus on the five steps of how to create a video streaming app in 2023.
So, here is the 5-step complete guide on how to build a video streaming apps that can deliver a buttery-smooth viewing experience and entertain a wide range of audiences.
Step 1: Define Your Market
Firstly, you shouldn't design a video streaming app based on speculation.
Instead, you should chart the streaming app's genuine users' wants and preferences.
Then, arrange and conduct user interviews to find problems as they arise.
Finally, you should identify a market niche where your streaming business can thrive in the long run.
Step 2: Define Your Target Demographics
Decide on your target demographic and the platforms on which your video streaming app will be available.
It can be on a website, an iOS/Android video streaming app, a smart TV, or a desktop OS.
After that, you will learn the technology stack required to construct the product based on your choice.
Step 3: Decide On The Content Availability & Content License
Will the content provided by third-party distributors and your original content, depending on the project type, be available on the same platform?

Well, find an answer to this question.
In any instance, copyright protection techniques and legal nitty-gritty must be considered.
Step 4: Decide On the Monetization Models
A monetization model – in the context of a video streaming app – refers to the methods by which your platform generates revenue by distributing videos.
While many platforms offer traditional models such as Subscription Video on Demand (SVOD), Ad-Supported Video on Demand (AVOD), and Transactional Video on Demand (TVOD), there are platforms like VPlayed that provide additional options for selling videos.
These alternative models include Catchup TV, Premium Video on Demand (VOD), Coupons and Promotions, or a combination of these models.
Deciding on the monetization model before building a video streaming app is imperative.

But why?
Because it helps you estimate the following.
determine how the app will generate revenue
design the app's features
acquire and license content
plan marketing strategies
ensure long-term viability and growth.
Step 5: Develop a Video Streaming App
You may validate your video streaming ideas in the real world faster by creating apps at zero risk.
You can launch a video streaming app via full-stack app builders with added perks or hire a dedicated movie streaming app builder like VPlayed.
Hiring a professional video streaming app builder is advisable, especially if you lack experience in this industry.
Planning To Build A Video Streaming Platform?
What Are The Key Features Of Video Streaming App?
This is a make-or-break decision. So, finalizing features should be right on top of your priority list.
But how do you narrow down your feature list?
Some of the best online video platforms are dynamic enough to adapt to the ever-changing needs of the users.
It should offer a simple and intuitive user interface that allows anyone to easily access their preferred content without scratching their heads.
So let's explore some must-have features to help you deliver the best user experience.
1. Profile Access
It is one of the fundamental features your online video streaming platform must offer. It should help the users register and make their profile easy to access the saved content and create their watch list.
In addition, it helps to deliver a personalized experience to the users.
2. Push Notification
Push notifications are the most underrated features ever!
They allow you to send your users important updates and marketing communication in real time.
So better user engagement and traffic for your online VOD platform.
3. Content Categories
So, this feature segregates different types of content in respective sections.
So your users can quickly access the desired content without spending much time finding it.
It helps to improve the navigation and adds to the excellent user experience quotient.
4. Multi-language Support
The third important feature your application must have is 'Multi-language support'; your application should offer the same content in multiple languages to entertain a global audience; don't let language be a barrier for people to enjoy your content.
5. In-app Purchase
Adding value to the visitors is an excellent way to increase your revenue. In addition, it helps provide additional features for minimal fees that benefit users.
Think of in-app purchases like upsells for your video streaming platform.
5. Video Monetization
Multiple video monetization platform allow creators and broadcasters to choose a reliable monetization method for revenue generation.
6. Real-Time Analytics
Data-driven real-time analytics helps gather valuable data and get insights related to your audience.
It can help you improve by creating content your audience likes to watch based on the engagement stats. It will also help you avoid general mistakes.
7. Payment Gateway
Payment getaways help you collect payments from users based on their subscription plans.
Your platform should offer multiple payment methods to cater to a diverse audience.
It should not restrict them with limited options; it should accept payment methods such as debit cards, credit cards, net banking, digital wallets, etc.
8. Reliability
Your online video streaming platform should be reliable enough to deliver a glitch-free experience to the users.
In addition, your online video streaming solution should be free from technical issues.
It would help if you always opted for solution providers that offer global or multi–Content Delivery Networks (CDN) and low-latency video streaming. It provides an uninterrupted experience even at low internet speed.
9. Security
Cyber theft is a significant challenge for online solution providers in the digital era. Therefore, your app should deliver a secure video streaming experience to all your users and not compromise privacy standards.
Strong encryption and digital rights management systems will help protect the copyright of content on your platform and limit illegal distribution.
10. Customization
Customization plays a significant role in delivering a personalized experience to users. As a result, personalization plays a substantial role in the growth and success of your online video streaming solution.
You should choose the best video streaming services for your video streaming app development that allows enough customization to help you create your brand and deliver a white-label OTT platform.
11. Beneficial Features
Your iOS or Android video streaming app developer should offer all the essential features for a world-class streaming platform.
From content management systems to integration and monetization options, you should evaluate all features your service provider provides before deciding.
Some essential features you must check include video editing tools, a search bar, a customizable video player, captioning and translation tools, social media connect, video marketing & analytics, etc.
Top 10+ Best Platforms To Create A Video Streaming App in 2023
Create a video streaming website or app is challenging when you can't find the right solution for your needs. Here are the six best video streaming solutions providers that might help end your search for 'How to make a video streaming Android app.'
The #1 Solution to Build a Video Streaming App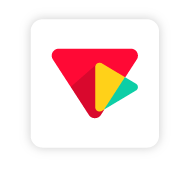 Request Demo
100% Customization
On-premise or On-cloud Hosting
Multiple Video Monetization Models
Stream via HLS Video Player
Contact Sales
VPlayed offers a feature-rich solution for creating the best online video platforms that are also very dynamic. It provides the maximum customization – the most customizable white-label platform – by offering you custom UI/UX designs, powerful CMS, 9+ monetization models, and a global CDN.
The entire online video streaming platform is built – from scratch to finish – at 50% faster deployment and implementation.
VPlayed empowers you with professional-grade cloud video streaming platforms with 150+ features to carve your niche and dominate the streaming industry.
Key Features Of VPlayed's Video Streaming Solution Includes:
100% customizable white-label streaming platform
Platform integration, either on-premise or on-cloud hosting facility
Super-smooth 4k, FHD video playback with HTML5 Video Player (HLS Streaming)
Seamless video management with video CMS
Multi-DRM platform for licensed content management
AES encryption for security
Sacel faster with 9+ monetization models
Data-driven OTT analytics to read audience better
2. Dacast
Best Online Video Streaming Platform With Streaming Facilities
Dacast streaming offers an easy way to create a video streaming app for Android or iOS.
It provides Software Development Kits (SDKs) for Android and iOS, simplifying the development process for the whole mobile market.
In addition, the streaming solution provider of Dacast ensures you have extensive Video hosting infrastructure and a compatible live streaming facility.
These Software Development Kits (SDKs) help you efficiently build and test your mobile applications before submitting them on the app or play store. Moreover, it takes care of all essential features such as analytics, monetization, and security of your application.
If Dacast users may always talk to anyone about their business growth and its successful ventures, then all thanks & credit goes to their 24/7 support.
Key Features Of Dacast's Video Streaming Website Includes:
Reliant and flawless events that are conducted live with top CDNs
Seamless video streaming with a highly-secured and unified platform
Ensure streams are under low latency & buffer-free via HTML5 player
Crucial live encoding support for real-time content delivery
3rd party player integration with a wide range of system compatibility
Multi-bitrate streaming at adaptable internet connection speeds
3. Muvi
Create a Video Streaming App Instantly
If you are wondering how to create an Android app tv app easily and deliver a great streaming experience to your Android users, Muvi should be your go-to option.
Muvi takes a holistic approach to building an online video streaming platform for Android users. It allows you to create, deploy, launch, and maintain a branded, customized Android video streaming application from scratch.
Muvi provides a white-labeled platform to meet all your video streaming demands quickly. It also builds tailor-made smart TV applications to enhance your audience's viewing experience. So whether you want to launch a video-on-demand, live streaming, or a live TV application, Muvi will help you.
Key Features Of Muvi's Video Streaming Platform Includes:
Create easy-to-use, intuitive apps to engage viewers

Enterprise-grade Security with Multi-DRM protocol

Seamless Integration with API & SDKs for enhanced UX

Real-time analytics to track the performance of your content

Backed by AWS cloud front CDN making streams latent-free

HTML5-based online video player that's totally customizable
4. Panopto
Top Video Streaming App Builder
A video streaming platform in your pocket. That's what Panopto is all about. Panopto's unique mobile video platform instantly records, schedules, searches, and shares videos.
With Panopto, you can build an application with an HTML5 video player and a customizable video layout. In addition, it provides an easy OTT TV app development solution for both your iOS and Android users with exclusive features such as automatic app detection.
Panopto serves an audience of 10 Million users and has been associated with the streaming industry since 2007. In 2017, they successfully introduced 360° and VR video support aided with speech recognition in 9 languages, which later partnered with Zoom in August month of the same year.
Here Are Some Best Features Of Panopto Online Video Platform:
Video management with ready-made LMS for education

Top video conferencing solutions with built-in streaming software

Lecture capture with recorded video courses anywhere

Employee onboarding with new hire tutorial videos

Professionally organize live & record town halls, speeches, etc

Remote working with media-based meeting intelligence solutions
5. Brightcove
Video Streaming Software for Business
Brightcove offers an instant app-building solution by providing features such as Software Development Kits (SDKs), intelligent device detection, mobile-ready encoding, etc.
You can launch a robust mobile application for multiple Operating Systems (OS) with little to no coding knowledge. You will also have access to complete documentation and developer articles in the cloud support center section that you can use to accelerate your app development process.
In addition, Brightcove has some scintillating features that allow content users to overcome ad blockers and deliver appealing promotional video content to its viewers, resulting in higher customer conversion rates.
Key Features Of Brightcove's OVP Platform Includes:
OTT

Video monetization

models for every industry

Superior video marketing with top-class advertising tools

Live streaming facilities with profound marketing features

Customizability to add on any upgraded USPs, functionalities

Video analytics for in-depth insights of user preferences

Reliable technical support with Video CMS, CRM integrations

Frameworks for sophisticated content security on the top tier
6. IBM Cloud Media
Best Platform for Creating an Online Streaming App
IBM Cloud Media is a business-oriented OTT video hosting and streaming platform. Its powerful video solution is jam-packed with features and functionality intended primarily for large-scale operations, and it supports both live streaming and VOD.
Also, the platform helps you generate consistent revenue by improving overall engagement, from live streaming to auto-archiving as on-demand videos.
Highlighted Features Of IBM Cloud Media's Online Video Platform Software Includes:
Online video content monetization with white-labeling capabilities

Content delivery server with in-built CDN support

Expert video security with password-protected channels

Streaming with monetization models like PPV, SVOD, AVOD, etc

AI-driven captioning for live streaming services

Quality of video service player with clickable video overlays

Mobile compatibility across devices with real-time video analytics solution
7. Vimeo OTT
Excellent High-Quality Video Streaming Platform
Vimeo OTT debuted its video streaming platform in 2004, allowing content aggregators and artists to generate stunning videos and display their artwork.
The platform caters to every audience needing video viewing requirements and offers a feature-rich video player that can be customized according to the business needs.
In addition, this online Video streaming app or platform provides powerful content management, analytics, and monetization tools.
The platform provides a variety of video-related solutions for various strategies and sizes. Creators and organizations can opt for extensive functionality with all the bells and whistles or a simplified plan that meets most of the content owner's requirements.
In addition, Vimeo OTT was one of the first OTT platforms to support high-definition video streaming.
Key Features Of Vimeo OTT Video Streaming Platform Includes:
Post-production and support for global audiences.
Vimeo's top CMS makes content storage and management easy.
Privacy settings can be a valuable resource for keeping video content safe.
Custom video gallery pages.
Effective security tools.
Personalization for on-brand streaming.
8. Zype
Robust Video Platform Solution Provider
Since its inception in 2014, Zype has grown rapidly and now supports the video infrastructure of over 300 customers, including well-known brands such as Crunch Fitness, Vox Media, People TV, Xponential Fitness, and America's Test Kitchen.
Its target niches include fitness, education, media, and entertainment.
In addition, Zype provides a full-stack video platform for building, operating, and growing any OTT video streaming business.
The platform offers an open framework and a set of developer-friendly APIs for creating bespoke video streaming solutions.
Instead of implementing critical video stream app functionality from scratch, developers can leverage a collection of ready-made APIs for video encoding, player management, linear Video, and live streaming.
Key Features Of Zype Video Streaming Platform Includes:
API endpoints for custom video streaming app development.
Multi-platform social sharing with multi-screen capability.
Over 28 pre-made video connectors with leading OTT/CTV distribution channels.
Content categorization with search/filter options
Native integration with over 1000 major SaaS platforms.
Enterprise-grade video CMS software with faster, automated workflows.
Customizable branding with the white-labeling feature.
9. Wowza
Great Video Streaming Platform To Stream Content
Wowza is a dedicated live streaming software OTT platform designed for professional broadcasting. Furthermore, the technology lets you stream live content without buffers or interruptions.
Wowza enables broadcasters to create highly customized streaming workflows using third-party integrations, APIs, and other advanced features.
This platform is well-known for its scalability and cutting-edge streaming infrastructure.
Wowza's streaming technology allows broadcasters to provide buffer-free content to various devices. The platform also supports virtual reality, 360-degree films, and ultra-high-definition streaming (4K).
Key Features Of Wowza Video Streaming Platform Includes:
The platform gives streamers access to full platform API and SDK.
Plenty of customization options and opportunities for third-party integrations.
High-level security features.
Transcoding in real-time.
Stream content to any device from anywhere.
Captions can be added to any live stream.
Wowza's solution incorporates cloud transcoding, which means broadcasters won't need any encoding hardware to get started.
10. Kaltura
OTT Video Streaming Solution For Content Owners
Kaltura provides live and on-demand video solutions to businesses all around the world.
It can connect teams to their advanced platform for any sort and size of meeting, from online training to executive communications.
Regarding live events, Kaltura shines; it allows you to broadcast live events to any screen and control or access them later using its administration console. In addition, the platform enables one to create, manage, and measure insights into the events.
With Kaltura, you can hold virtual meetings with any number of attendees. Its powerful analytics capabilities for VOD and live streaming allow you to monitor the performance of your videos in real-time. Furthermore, it has a cloud platform ready for TV shows, allowing you to meet all your video-streaming needs.
Key Features Of Kaltura Video Streaming Platform Includes:
Adaptive video streaming with several bitrates.
Total video and player API access.
Customizable templates.
Monetization alternatives (SVOD, AVOD, and TVOD) via integrations.
Options for authentication and encryption to improve security.
Customizable layouts for easier live broadcasting.
Conclusion
Suppose you're looking for a reliable solution provider to build a secure and customizable online video streaming application. In that case, you can consider the above-mentioned options and select the one that fits your requirements and budget.
However, those who want to – not lease – build a self-hosted, fully-customized video streaming platform should consider VPlayed seriously.
Most of the platforms are merely online video players.
Or, they are platforms that offer neither extensive customization nor lifetime ownership.
VPlayed is the only video streaming platform provider that provides full-fledged white-label streaming platforms with lifetime ownership.
It operates on a ' Buy once, owns forever' basis – you buy the platform and enjoy ownership forever.
If You Already Have An Idea To Build A Video Streaming App, Schedule A Free Demo And We'll Get You On The Road To Video Streaming Success
Frequently Asked Questions(FAQ)
1. Is It Hard To Make A Video Streaming App Like Netflix?
However, building a video streaming app that can compete with Netflix's content library, user experience, and comprehensive usability isn't that difficult; as you can just quickly release any video streaming app with some primary features and expect consumers to interact with your brand.
2. What Are The Main Features Needed To Build Video Streaming App?
The top key features that can create a video streaming app needs to be packed with complete customization, flexible platform deployment solutions, advanced robust player, scalable video analytics, end-to-end encryption & lots more.
3. How Much Time Does It Take To Launch A Video Streaming App?
In general, the time it takes to establish a new branded online video streaming platform, which is delivered as a full-stack SaaP-based solution, is about 3-5 working weeks. Having said that, some criteria's like customized requirements also determine the time to create a best-suited video streaming app.
4. What Are The Technologies Used To Create A Video Streaming App?
Choose a technology stack depending on your company's specific requirements while building a robust video streaming app. High system resilience, streams availability during peak loads, ease of infrastructure maintenance, scalable & secure data storage are all common technical requirements.