For all Ecommerce store owners out there, here comes an attractive package of the most-needed extensions that will propel your sales growth to new heights. Apptha has handpicked 8 of its top selling Magento extensions and has bundled it as a Magento combo kit which will help you out on the technical side to achieve remarkable success in your business. This all in one package is the best tool kit to overcome the shortcomings of your site in quick time.
Here is a quick rush through of what the package has got to benefit you with
Social Login:
Set up an easiest gateway for visitors to access to your Ecommerce sites by allowing them to login through their Facebook, Twitter, Google and Yahoo thereby reducing the need to remember separate username and passwords for entering your site. This will help in bringing in more customers and result in significant increase of your site's traffic.
Facebook Store:
Enhance your business by selling products directly on your Facebook fan page using Magento Facebook store. Replicate your online store on facebook, add, edit, categorize and manage products and set up secured payment transactions.
FB Discount:
Increase your likes on Facebook by rewarding customers with discounts. These discounts will lure customers to purchase products in your online store which will eventually result in increased sales and brand promotion.
Social Affiliate:
Through this site owners can encourage customers to refer your store to their friends. Each referrer (who is an affiliate here) will be rewarded with credits which he/she can use for making further purchases in your site. You can also set the amount or percentage of credits which can be redeemed by an affiliate while making a purchase. Moreover, your social affiliates can also log in to get to know the details on their credits, available credits and used credits.
Also Read: How to Convert the Visitors into Shoppers through E-mails?
Amaze Reviews and Ratings:
Capitalize on the power of Google's rich snippets and turn your Magento store into a trust worthy one among online buying community. Amaze Reviews and Ratings help you in exhibiting positive reviews, ratings and votes earned by your product in the Google search results page which will attract customers to click and earn their trust.
Super Deals:
Highlight the latest, hot and happening deals of your site in an exclusive page tailor-made for listing 'Deals' and help customers to choose their appropriate deals with ease. You can also alert customers with deal alerts, deal countdown timers and deal reminders and keep them well informed.
One Step Checkout:
A simple solution for reducing cart abandonment. Allow your customers to furnish all the shipping and other essential payment details in one shot by providing an integrated single-page checkout system which is blessed with automatic updates for prices, total, taxes etc when a customer changes shipping/payment method.
Advanced Reports:
A report generation system that helps you to analyze the performance of your online store based on 'Products'. This extension also provides options to generate reports on particular time periods, export and import files in CSV or Excel formats and a dashboard to view updates in a Google analytics like view.
With so much to offer, these extensions, will help you save up to 15% of your budget.
Go ahead and grab the deal now!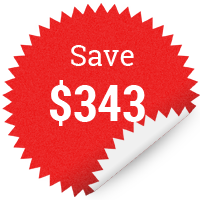 Realated Posts