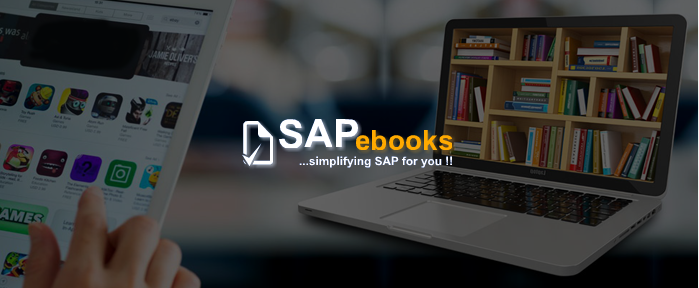 Apptha's Marketplace script, which has powered a variety of multi vendor eCommerce websites belonging to B2B and B2C industries, met with a challenge of fueling a website that completely consists of downloadable products.
Sapebooks.com, a joint venture that grew from the ideas of a group of SAP experts, was looking out for a readymade script on Magento that could help in selling A to Z related to SAP in PDF, ePUB, CHM Mobile and Kindle ready formats.
The technically sound build, backend controls and frontend options of Apptha's Marketplace Magento script were satisfying for the founders of the online SAP tutorial, however to meet the specific demands of their business model they needed customizations to be done. Keep reading…
Payment system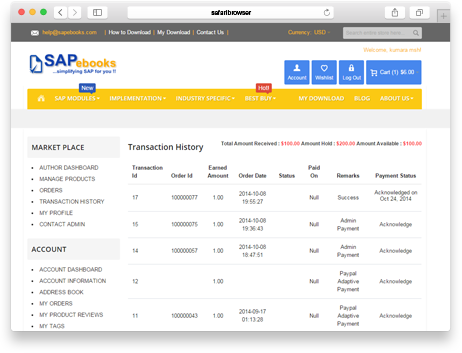 The website needed a couple of options in order to extract more details on every single payment made. For this three different status setting options were bestowed into the payment section of the admin panel.
For getting a better clarity on transactions, 'Order Date', 'Status' and 'Remarks' options were added to the existing set of transaction details, under the 'Transaction History' tab.
Social-media friendly
Social Login extension which comes as an add-on with Marketplace script proved beneficial for the website. Logging in option via social media platforms like Facebook, Twitter, Google+, Yahoo!, etc improved user enrollments by a greater deal and thus the customer base improved two-fold.
Payment convenience
Adding to the backend customizations which improved the transaction history monitoring of the website's administrators, one-step checkout add-on was a supplement which improved the payment convenience of shoppers. The checkout was cut short and restricted to just one page so that shoppers can provide all the necessary details and checkout in a flash.
Moreover, the geo-location feature which automatically detects the city and country automatically saves time and the compatibility of this extension towards all the default payment gateways supported by Magento helped our client choose their convenient payment gateway.
Exclusive deals page

Offers and discounts are part and parcel of ecommerce business. For business owners to make the most out of the deals they offer, Apptha provided a handy extension as a value-added service. This extension allows admin to list all the ongoing deals, offers, seasonal sale in a separate page so that whenever a deal seeker comes in, he/she can directly checkout for the available offers in a place exclusively meant for that.
Countdown timers, labels and deal alert setting on product landing pages helped website to propagate their own offers and earn maximum benefit.
Others

Dashboards helped in having a track on sellers, sales updates, visits, top selling products, extract periodic reports and compare performance. For the sellers, it provided information on orders, commissions, best sellers etc.,
As the website completely dealt with downloadable products alone, other product types like 'Simple', 'Virtual' were removed. Order management controls, vendor-specific URL, 'Contact Admin' option were the others that improved user enrollments.
Finally!
sapebooks.com was born and started attracting SAP developers around the globe. Now the website serves as one of the best places for finding SAP tools, tutorials and related learning materials.
Related posts