If you're an online store owner, you'd have been aware of the fact that default Magento checkout page is too long. Often the most perplexed process during online purchase is checking out; to make it worse if it is too long you've 90% chances of customers abandoning shopping carts quickly! Is there any way to make this process short to encourage customers to shop fluidly? Of course, you've one: One Step Checkout!
Why Amazon's checkout page most successful?
A prime factor that has contributed to their massive and quick growth is their Checkout page. It has been reported that this has helped Amazon to improve the conversion by more than 169%.
If you've checked out Amazon.com, you won't be surprised to see that its checkout page is unproblematic and simple. Besides, it saves the time of customers as they don't have to register every time to purchase the products. This creates a difference between Amazon and other sites.
The increase in conversions is due to removal of irrelevant form fields and some enhancements made on the checkout page.
So, it is quite evident that 120% increase in the conversion rates on your ecommerce website is very possible with a simple checkout page.
How Amazon overcome the checkout resistance?
Also Read: How to Add Custom Field in Apptha's One Step Checkout?
With a perfect checkout page on their shopping cart page, Amazon made some brilliant enhancements.  A few of them are:
Fast page loading (ajax powered)
Simple form fields
Clear form fields with specifications
Attractive and colorful buttons
Secure payment options, etc.
Why Apptha's one step checkout?
Well, if you wish to set up your ecommerce checkout page alike popular ecommerce giants like Amazon, try out Apptha's one step checkout extension for Magento. This extension offers all the above-mentioned facilities.
In addition, it can enthrall the ecommerce web owners and customers with some additional functionality like:
This feature enables auto detection of city, country information on checkout page to accelerate the shopping performance.
This feature helps customers to translate and view orders in their preferred languages, which provides a complete shopping experience.
Using this feature allows customers to complete their product purchases even on the go with ease.
Site owners can customize the checkout page fields the way they want exclusively for better conversions.
Help customers experience a brilliant and speedy shopping experience with some user-friendly options and improve the overall performance of your ecommerce business in no time using this reliable extension.
Want to measure its success rate?
Around 400–500 websites benefitted using this extension have rated and reviewed this product excellent! Take a look at the below image for measuring its success.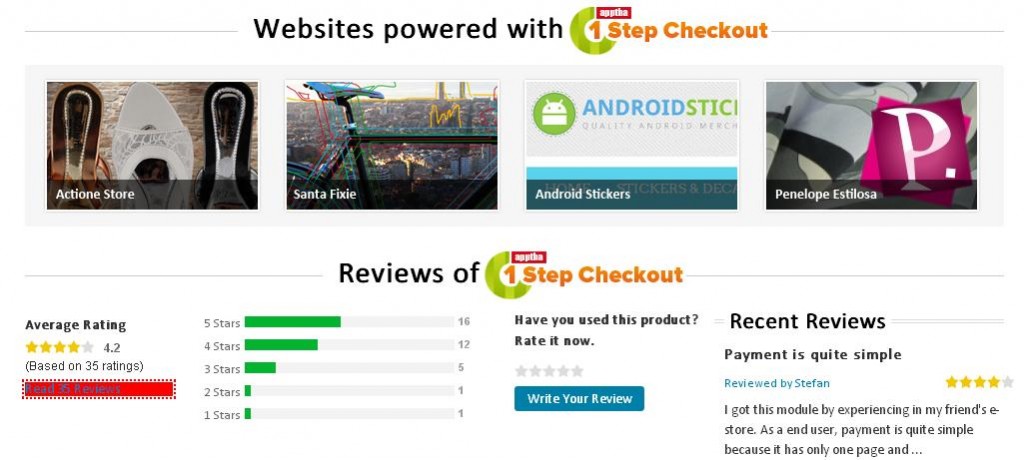 Want to know who used it and improved their conversions?
Here is the LinkedIn recommendation for your view.
To learn more about the product and buying, click here:  http://www.apptha.com/category/extension/Magento/OneStepCheckout
To take a look on live demo of the product, click here: http://www.apptha-demo.com/magento/onestep_checkout/index.php/checkout/cart/