WordPress Video Gallery, one among the most sought after video players developed by Contus, has achieved a remarkable feat by getting downloaded for over 100 thousand times. Ever since the release of its updated version 2.7, the video plugin has been witnessing a significant increase in the download rate. The free version of this software is in no way different to its premium version except for the fact that the paid version lets users to upload their own logo in the video player.
How well is WordPress Video Gallery rated in WorPress.org?
Contus' video plugin for WordPress platform is widely popular in the official marketplace site of the open source CMS, WordPress.org This top rated plugin enjoys over 180+ downloads a day. In order to make use of this video sharing software you'll require 2.8 or higher versions of WordPress.
How well does it satisfy customers?
Well, the ratings from the users are those which act as a standing proof for the amount of satisfied customers this WordPress video player has earned. A majority of the users who have downloaded this plugin through WordPress.org have rated it 5 out of 5. It is quite evident from this fact that the plugin is the most trusted and preferred in the market.
Instant support as and when you need
Customization of any sort can be done as this video plugin has been built in such a way that it can be tweaked to house any additional feature or can be custom built to address specific requirements. Users can find online support from the developers 24/7 for clarifying queries on installation and configuration or other related doubts, through the wordpress.org support channel.
Organic search results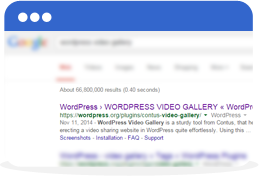 Yet another fact that vouches the popularity of WordPress Video Gallery plugin is that it's ranked number one in organic search results. This video module stands atop among the 6,67,00,000 search results in Google and is ranked the number one spot in Yahoo search as well.
Infographics
For a better picture on the facts and statistics of WordPress Video Gallery, check out its infographics here. This infographics is a compilation of the best achievements and factors that justify why many of those aspiring to build a video sharing website prefer WP Video Script.
If you have already purchased WordPress Video Gallery extension and looking out to clarify your queries, reach our customer support executives at assist@apptha.com.
Regarding your requirements on customization, write to our business development team at bdm@apptha.com.