Are you a business owner looking to invest in building your own chat solution? or are you planning to buy a subscription-based model real time Chat service?
Then, this article will guide you to choose the best real-time chat service tool along with the details about the top-used and best-rated real time messaging SDK Tools.
Around 2.77 billion users are using the real-time messaging apps to communicate on a regular basis and it is estimated to grow by 3 billion users in 2022, as per the Statista Research Report.
Real-time Chat Service for Effective Collaborations
The purpose of building a chat platform as a communication tool in companies is to enable effective conversations that offer convenience, privacy and group communication as well at the workplace.  
Digital communication APIs will be efficient in your Business communications. So, it's time to re-think on the investments you make and start knowing more about the chat api services to enhance the business production. 
Is your team still using emails to communicate? Well, Hold on! You are missing out on exploiting your team's abilities. With minimal interventions, companies can boost the proficiency of communication and also collaborate with teams via instant messaging.
7 Best Chat API Service Providers for Android,iOS and Web
Depending on various standards and detailed interpretations, here is the list of top 7 real-time communication platforms that deliver the best chat service APIs & real-time Messaging SDK solutions.
100% Customizable Chat API Service for Mobile & Web Apps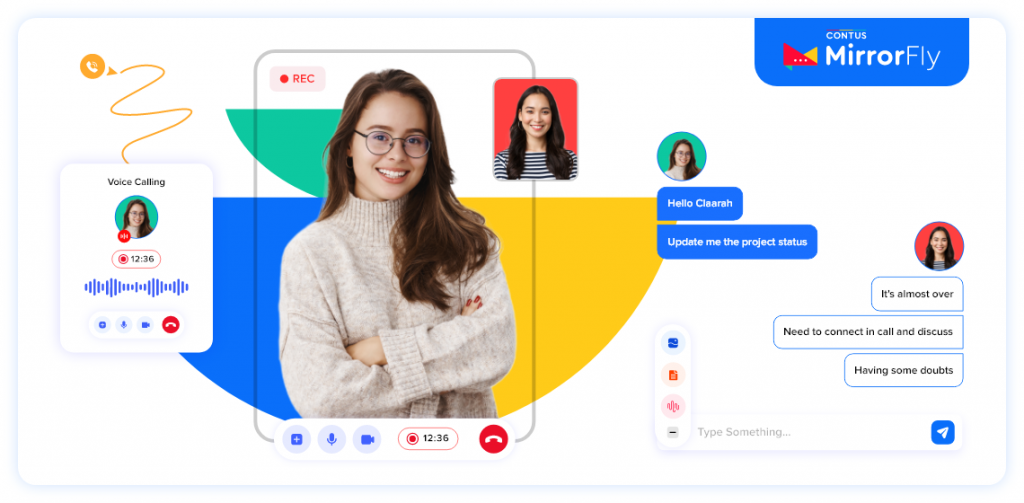 MirrorFly is rated as the No. 1 in the chat API service and messaging SDK solution providers for companies to build a real-time chat platform equipped with multiple interaction mediums. The real-time messaging API solution is equipped with WebRTC video chat for enabling HD video conversations with a solid VOIP Calling feature for dynamic voice engagements. The chat API service provider adheres to GDPR & HIPAA Compliances and highly scalable with real-time communication API infrastructure that facilitates over 1 billion conversations and connects 10M+ users.
MirrorFly Features
100% Customizable

Multi-Party Video Conferencing

Secure File Sharing

Screen Sharing

Live Broadcasting & Streaming

Real-time Notification

Push to Talk

Multichannel
Pros
Whitelabel Solution guarantees you to retain your brand identity.

Assisted with on Cloud & on- server hosting premises.

Enriched with UI/UX designs multiplies user experiences.

One-time license cost
Cons
No Subscriptions available
Compatible Platform
Build an addicted interactive chat app with our voice and video SDK
Provider #2. Sendbird
Leading Chat API service & Messaging SDK Provider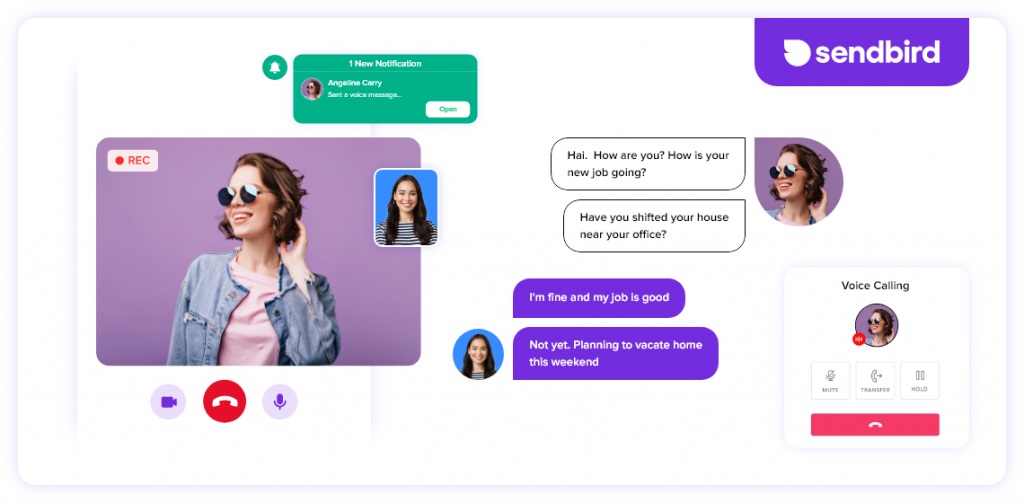 It is one of the most reliable and trusted Chat api service providers, based out of the US. The Send bird digital communication API solution comes with AES 256 End-to-End Encryption data protection and enables global language translation to support over 500,000,000 messages every day and 1,000,000 concurrent connections per application.
The app builds modern chat application for website and mobile with offline messaging, presence, translation delivery receipts, analytics and moderation tools. Sendbird powers its messaging platforms for millions of users on a highly scalable infrastructure that is built with security, reliability, and also certified by the leading compliance standards.
Sendbird Features
Chat Moderation

User Muting

Image Filtering

Spam Flood Protection

Smart Throttling

Managing Moderator Roles & Permissions

Announcements

Profanity Filters
Pros
Allows the users to freeze a chat channel

Enables scalability, since the Infrastructure is on AWS

Fits several use cases, such as 1-on-1 messaging and closed group chat.

Free trial on all Pro Features is accessible.
Cons
Starter plan does not offer access to necessary chat features like delivery receipts and announcements.
Compatible Platform
Instant Messaging API & Chat SDK Provider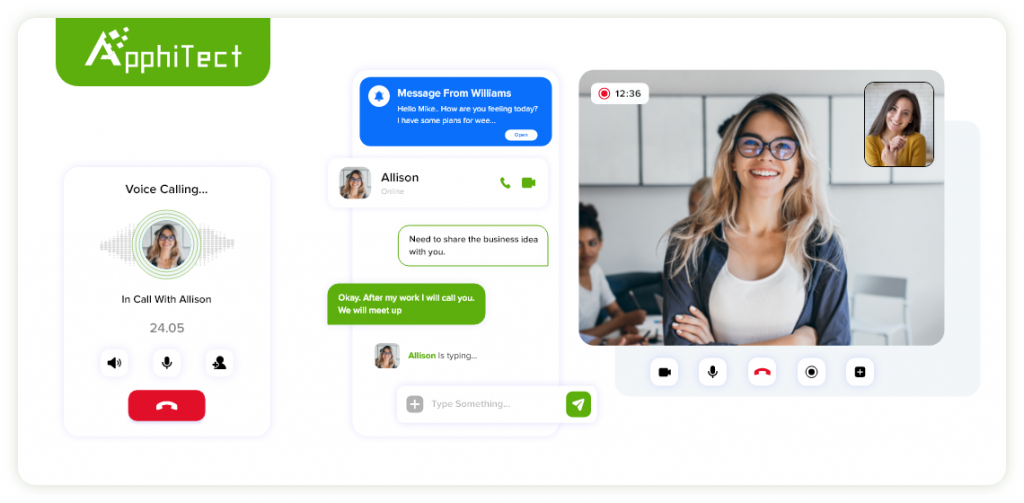 Apphitect API communication solution comes with several unique features such as offline messaging, personal-chats and social interaction types. The Instant Messaging API & Chat SDK provider is 100% customizable and also uses cutting-edge technologies including AWS, Erlang, and Apache Cassandra. The Apphitect IM solution is focussed on supplying enterprise-grade technology solutions that is grounded on mobile-app development, cross-platform development, enterprise mobility, etc. Apphitect IM exploits the expertise of technologies to rejuvenate the end-user's app experience with the prowess of their UAE-based instant messaging SDK provider.
Apphitect Features
Fully Customizable Messaging Solution

Video & Voice Calling

Screen sharing

Multimedia sharing

Geolocation tracking

Push notifications & Offline messages

Presence Indicator & social integrations
Pros
Scalable and Reliable.

Easy Integration with 24×7 support.

Provides unlimited Storage and on-cloud hosting.

Zero down time possibility.
Cons
Requires 10 business days to integrate Chat APIs into a Website.
Compatible Platform
Provider #4. Getstream
Best Chat API For Mobile Apps
GetStream builds real-time chat app for enterprise-grade collaborations and provides an activity feed provider to build a scaled real-time communication api within a few days. Established in 2014, the chat API service provider has served over billions of end-users supporting the other activity feeds Twitter, Scaleforce, instagram, etc. The getstream team builds the chat messaging software or the activity for your apps within a few days to create an amazing user-experience that normally takes years to build in-house teams. The communication software is used by a billion end-users for its reliability despite the demands.
Getstream Features
Direct and group chats

E2E encryption via TLS

Edit and delete messages

Threaded conversations

Spam and profanity protection

BGP + DNS routing
Pros
Activity, notifications and personalized feeds

Integrated with easy-to-use REST API

Giphy, emoticons and file attachments

Allows minimum coding and can be set with ease

Multi-region support
Cons
High pricing (499 USD/month)
Compatible Platforms
iOS, Android and Web Apps
Provider #5. Pubnub
Best Real-time Messaging API Provider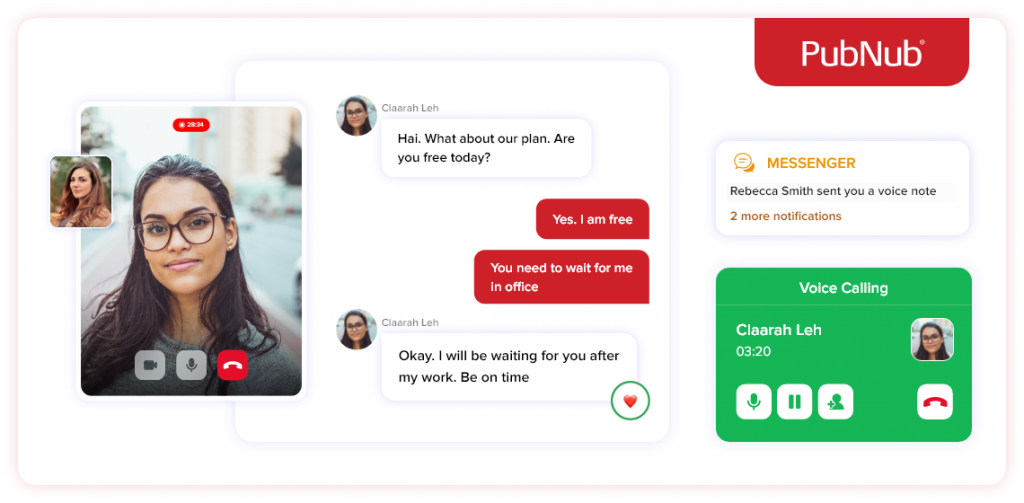 It is one of the popular real-time messaging API providers for best chat integration, even during traffic spikes and also with a concurrency of 99.999% API uptime SLA. PubNub's real-time Chat API will ensure user engagement and retention with nifty moderation tools. Its powerful chat APIs are secure and reliable for one-to-one chat, group chat and live event messaging as well.
Pubnub serves their customers with real-time alerts including in-app alerts, push notifications and SMS. Its APIs are customised with bidirectional monitoring and triggering device action. Other features of Pubnub include, Language translation, content moderation, and other best-in-class 3rd party services with natural language processing, sentiment analysis, and other AI-enabled services.
PubNub Features
ChatBot Device Chat
Ready-made UI/UX designs
Real-time Notifications
Community Chats
Private, group Chat.
MultiChannel messaging
Live event Messaging
Pros
Assists over two trillion messages per month
Reliable and Scalable
Powers real-time use cases alongside the chats
Offers over 75 SDK options to choose.
Cons
PubNub functions such as HIPAA and GDPR compliance are not accessible with the standard plans.
Compatible Platforms
Provider #6. TalkJS
Chat API Service for Website & Mobile Apps
It is one of the leading chat apps that permits developers to integrate real-time chat platform API on web, android, and iOS applications to communicate between users. Talkjs is a cross-platform messaging platform that is fully featured, scalable and reliable. The digital communication apis work seamlessly with many languages and frameworks such as Angular, React, Laravel, jQuery, Ruby on Rails etc. With TalkJs, users can shape their conversation in their own preferred way like creating a private 1-on-1 conversation or engaging with multiple users in a single channel, group, topic or chat rooms. TalkJs is integrated to fit all the customer use case needs.
TalkJS Features
Full conversation history
Chat Pop-up
Responsive Cross-browser UX
Multi-language support
Channels, Groups
Pros
Supports multi-user chat.
Reliable and functional
Easy to implement.
Swift Notifications
The chat app can be integrated instantly
Cons
Compatible Platform
Android, iOS and web applications
Provider #7. Quickblox
A Ready Whitelabel Chat API Solution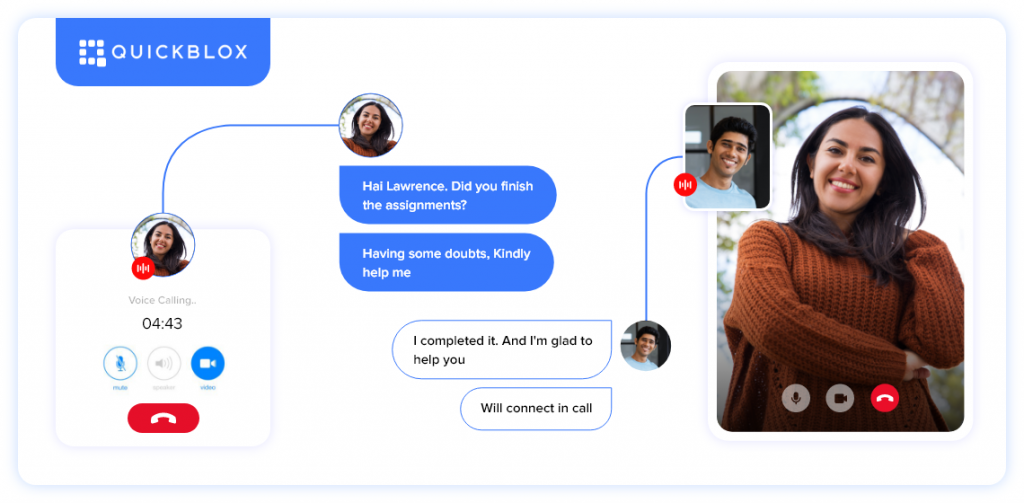 Quickblox is one of the best real-time communication solutions with a clean and simple UI/UX design. It offers a Whitelabel Chat service API Solution that authorizes flexible data storage. The app is embedded with WebRTC that produces high-quality one-on-one Voice and live video chat. The chat features of Quickblox are embedded and designed to enhance the user experience. It thus drives customer engagement with high-quality voice and video calls. Users can create real-time group interactions to boost their business productivity and improve collaboration methods. Quickblox is also flexible with data storage that compliments the messaging process and refines the brand identity by sending friendly reminders to customers.
Quickblox Features
Features
Video & Voice Calling
File Sharing
Screen sharing
Multimedia sharing
Integrate on existing user-management
Cross-platform compatibility.
Pros
Offers Q-Municate, a ready-made messaging app for QuickBlox users.
Available with support and has no license restriction.
Dedicated servers facilitating Scalability
Secure, encrypted and adheres to regulatory compliances.
Cons
Does not support multiple industry use-cases.
Compatible Platform
Android, iOS and web applications
Conclusion
It is clearly evident that all the top 7 Chat API service providers distinctively differ by technologies after analysing the features, Pros and Cons that are compatible, affordable with multiple options, and features. Now, as a business owner you can opt for the best suited platform from the listed providers that meets your specific business metrics. What are you waiting for, Kickstart and Build your own real-time chat platform to increase your business productivity.
If You're Ready To Embed Best Chat API for your Pre-built or Existing Mobile Application