It's now easy to Add, Remove and Update Products to your carts
What irritates you so much on an eCommerce store as an online customer? For me, it is the innumerable number of reloads that occur with each actions made on the site. Reloading is really annoying in most times and particularly while you're on a payment process. Any customer would wish to make their online shopping in a smooth and simple process. So, those who are owning Magento e-stores, soon gear up your stores with Apptha's Ajax Cart Pro, with which there is no more reloading of your site pages.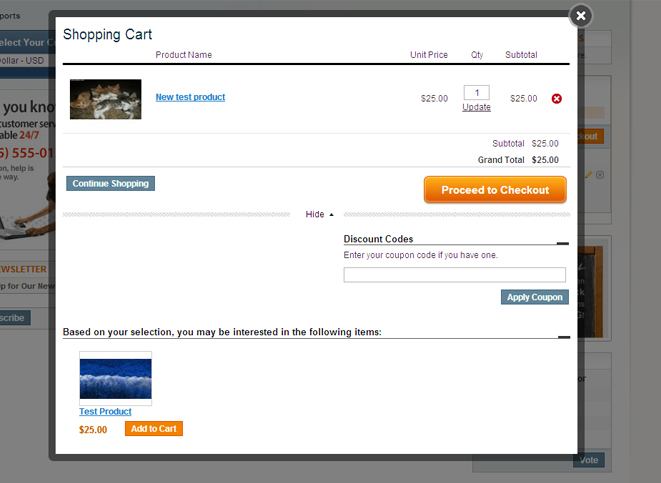 Apptha has launched its new extension named 'Ajax Cart Pro', which is surely going to convince eCommerce shops. Ajax Cart Pro is a Magento Extension that allows users to easily add, remove and update products from your store without having to reload the cart continuously using Ajax pop-up. This finds your customers an immediate solution to continue shopping without waiting for pages to refresh.
Ajax Cart Pro is compatible with Magento Community edition 1.6 and 1.7. Installation of this extension is extremely simple. In the front end, when a user clicks on the 'add to cart' button, a pop up will be displayed where the user can edit the quantity for added products by clicking on "Update" link. Likewise, customers can delete the added product from cart without redirecting to cart page. Listed below are few major features that come along with AJAX Cart Pro extension.
General Features:
1. Easy to add Products without having to reload Cart page
2. Easy to remove Products without having to reload Cart page
3. Easy to update Products without having to reload Cart page
4. Intuitive design
5. Manage Discount Coupon in Ajax Cart
6. Manage Shipping & Tax in Ajax Cart
7. Manage Cross Sell Products in Ajax Cart
8. Add to cart' pop up is applicable for Wish list and Compare products.
9. Paypal Express checkout and Google API can be enabled in Ajax Cart Pro by configuring it.
10. Add to cart' pop up is applicable for sidebars, my orders etc
Ajax Cart Pro is full and fully designed to make your stores in a customer harmonious way. If ever your site is experiencing issues with cart pages, this extension can be the perfect one to run behind!
Checkout : Why to Use an Ajax Based Shopping Cart
Related posts