Experts say that the average abandonment rate of an eCommerce store is about 65%. How to minimize it and offer a pleasant checkout experience to the customers? Now it is possible with the far-flung adoption of technologies like AJAX. Consumers are getting habituated to more powerful and fast responsive websites which responds to their input immediately instead of the complete page refreshing approach.
With AJAX Cart give your customers the ability to add multiple products to their shopping cart just instantly. This could be done only in extremely fast and responsive cart like AJAX Cart Pro which is built using the latest technologies and they does not have to reload or go back to another page to add products to the shopping cart. This speeds up the process of online shopping and improves the user experience of your website.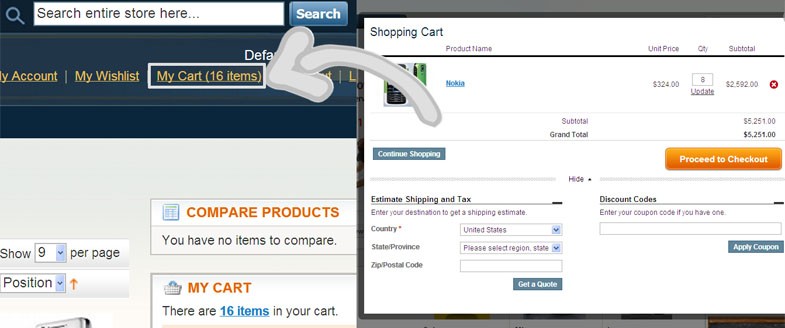 Customers can do great things with ease:
Add/remove products without refreshing the page.
Easy way to manage Discount Coupon and Shipping & Tax.
Clients can also update the quantity of each product with a simple click of the mouse.
The tasks like 'Products Comparison  and 'My Wishlist' can be performed in a second without having the page to reload.
By providing a smoother shopping experience customers are more likely to return to the store and purchase more products and this result in increase in revenue and success of the business.