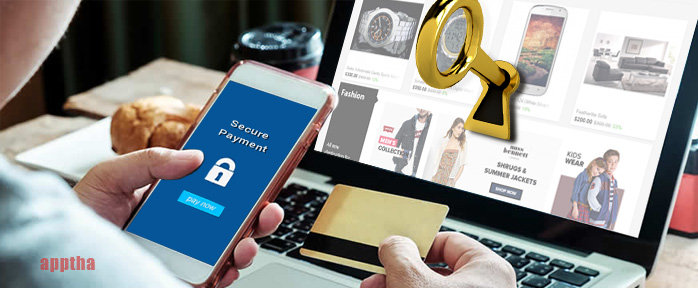 A lion share of users still refrain from shopping online for fear of cybersecurity. This guide explains in detail how to dispel their fears easily, quickly and permanently.
4 Ways to Make Online Shopping website Secure for Customers
This is the first of the series of blogs that discusses security concerns and security measures that need to be implemented in the online shopping industry.
The eCommerce industry is made up of three kinds of people:
Customers who want to buy from you
Hackers who want to steal from you
Cybersecurity criminals who want to steal from those who buy from you
The first kind of person is someone you would want to treat like your best friend, the rest are your enemies. Period. In a brick and mortar store you know when someone is trying make away with stolen goods. The challenge in online selling is that you have no clue where trouble is coming from.
You must have your shield up and held tight if you want to protect the Type 1 people from Type 2 & 3. For that you need to know about security measures that an online shopping website owner must know and implement.
This blog talks in detail about that. We are going to explain not just few, but 10 proven ways to secure an online shopping website.
For convenience, we are segregating the points into two:
Security measures to protect Customer Data
Security measures to protect Admin & Website
Ways to Protect Customer Data
Protecting customer data is tougher than you think. Hackers are after your customer data like credit card information, location, personal credentials, etc. Access to any one of these data can allow them to reverse engineer entire customer profile using social engineering techniques.
Customer Information: Want not, Ask not
Most online stores make the mistake of collecting too much customer information for customer segmentation and CRM. such superfluous customer data collection might help increase conversions in the long run, but, if they are mismanaged they are a shortcut to losing credibility in the market?
Wondering how it leads to losing credibility? By law if you are collecting any sensitive customer information, you are liable to ensure its security. Any kind of security lapse that eBay, HomeDepot, Target, etc. suffered can ruin your brand reputation once and for all. An
eCommerce store with a damaged reputation will have a tough time rebounding to normalcy.
So, the better thing to do is to avoid collecting too much of information that you may not need at all.
Use Offline Storage

We get it. Your marketing team cannot do without elaborate customer information. The risk of storing it online in your servers need to be negated too.
The way out? Store them offline. Make it a point to move all sensitive customer information consisting of credit card information, email addresses, physical addresses, etc. to a remote offline server.
Store only such information that might be needed to process recent chargebacks, returns and the similar kind.
Still better, try using a 3rd party payment solution like Amazon Pay, Citrus, Authorize.net, Paymill, Stripe, etc. which use proprietary web servers for processing online payments.
What if you want to process your payments without a 3rd party solution? Well, then use SSL encryption.
Use SSL Encryption

SSL stands for Security Sockets Layer. Transport Layer Security (TLS) is a further advanced form of SSL certificates. SSL encryption is basically a cryptographic protocol that establishes high-end security for data exchange over the Internet.
Having a SSL certificate on your eCommerce website serves two primary purposes:
It ensures security for all transactions
It inspires confidence in customers
As an online store, you should preferably go for Extended Validation SSL Certificate. An EV SSL Certificate is the highest form of SSL certificates which can be obtained only after an elaborate process of checking by the Certificate Authorities – security agencies that issue the SSL certificate.
Having a SSL certificate on your website will make it HTTPS ready. Being HTTPS ready brings a host of benefits, like:
Improved SEO friendliness
Increase in conversion rates
Negligible security threats
Use Secure Payment Gateways
When it comes to processing online payments, you have two options: have an in-house payment processing system or have a 3rd party payment gateway handle it for you.
The benefit of having an in-house payment gateway is that you save the processing charges that these gateways charge for each transaction. For instance, PayPal charges almost 4.5% of the transaction value. The charge reduces when the volume of transactions increase. But, if you have your own payment processing you can save that much.
However, the catch is that if you are processing payments on your own, you will have to comply with PCI DSS protocols. The protocol is as under:
However, if you are using a 3rd party solution, the responsibility of PCI DSS compliance is upon them, which saves you precious time and effort.
These are four big ways how one can protect their online shopping website from cybersecurity crimes.
In the next post, we are going to elaborate how admins can secure their online store backend so that it remains far from the hands of hackers and cybersecurity criminals.
Realated Posts