Magento, the most popular platform for establishing ecommerce stores online, has added yet another feather to its cap; yes! It's declared to be the outstanding ecommerce platform compared to various other platforms today by the ecommerce survey of the year 2013 conducted across the Alexa 1 million top sites. To add more delight, the stats also pointed out that Magento has also garnered more customers this year compared to 2012. Well, this article is all about how exactly Magento trounced other platforms effortlessly in the race. Before, shining a light on the tremendous growth of Magento at 2013, let's develop a fair bit of idea on why surveys are essential.
Why surveys? What makes them special? Without surveys, conducting a thorough market research is tough. We come across different types of surveys conducted on distinct fields to help people around the globe aware of the best possible solutions available. Each year surveys are conducted and solutions are offered based on the data gathered from a huge mass of people. One such interesting survey happened at 2013 is on "Who tops the ecommerce race?" Compared to yesteryear, the survey had some interesting details which I'd like to discuss here. It's high time to jump to the topic and here we go with the survey results.
Also Read:Joomla vs. Magento: A "Never-Before-Seen" Comparison
26% top sites use Magento:
The survey has clearly demonstrated that almost 26% of top sites in the Alexa 1 million sites have deployed Magento for their business. It is apparent from this statement that Magento is widely preferred by different top sites which have multiple requirements. Compared to past year, number of sites using Magento has raised by 30% which clearly denotes how fast this robust platform is growing. Not only this, it has been reported that most of the top selling and busiest sites are built on the Magento sites and they've been performing great.
Down below, right here, I've added the stats in the chart to help everyone accessing the survey data grasp the complete information with ease.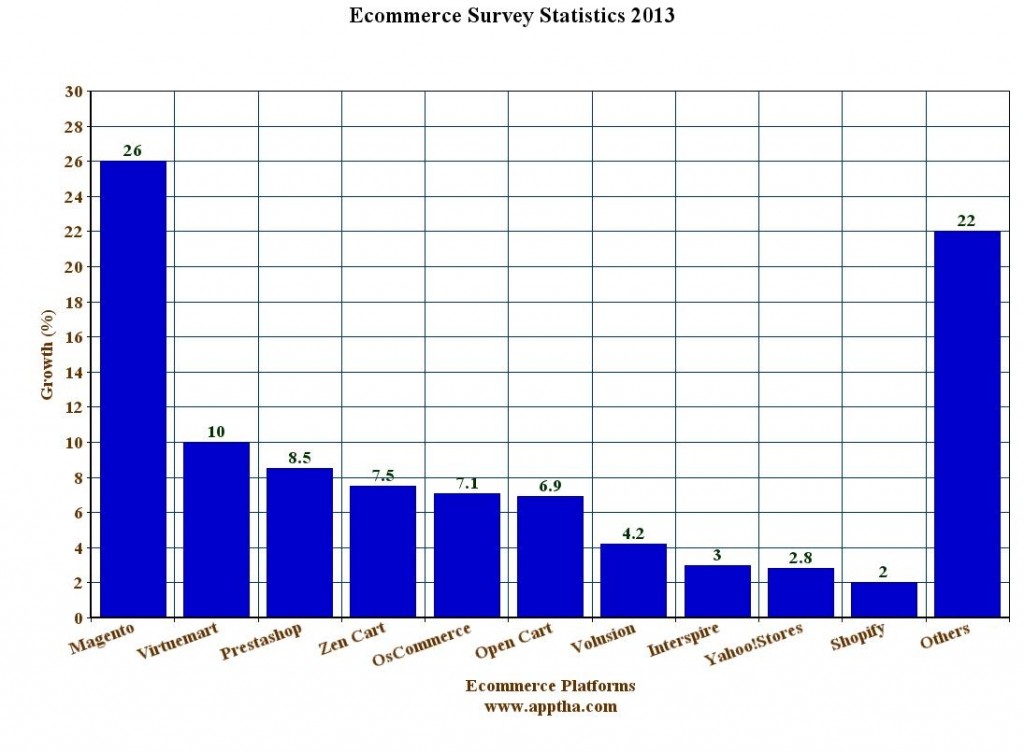 From the above stats, it is clear that Magento is experiencing unprecedented growth. You'd see the other competitors are nowhere near to this incredible platform! So, Magento is really gathering momentum all over the globe and most people favor this platform for its security and versatility. While a few sites like Virtuemart has enhanced its customer base, some like OsCommerce has lost customers eventually. Magento has grown tremendously because the customers using this platform have been tasting success consistently.  Besides, super handy Magento extensions and themes, next to the fantastic support community, can be beneficial in improving any online business to a great extent.
So, if you have an ecommerce store, developed using Magento, absolutely you'll ending up with better sales compared to other platforms. And if you don't have one, start setting up a Magento-based ecommerce website today for improving your business standards. I strongly believe, by next year, Magento will be way ahead of other platforms if it continues to grow as it is doing this year. If you are interested in reading out posts that compare Magento with specific platforms like Joomla or WordPress, click here.