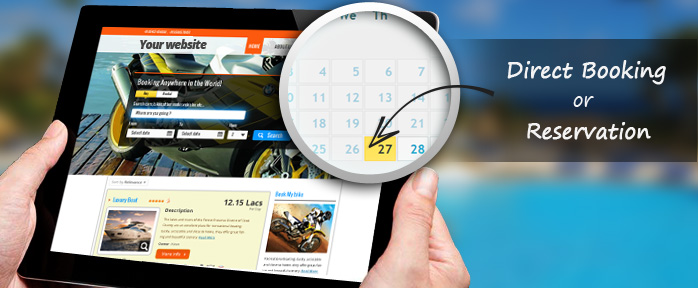 Everything is going online and the hotel industry is not exception to it. The abundant availability of hotels (of all levels) has made travelling easy for many who keep on spinning around the world. While the travelers are the beneficial lot here, the hoteliers have a tough time in getting their customers in to their rooms.
Considering the present day's scenario, accommodation room providers have become too much dependent on online travel agents (OTAs). These agents though assure hoteliers of getting the promised number of customers, restrict them in various degrees and also demand a chunk amount as their fee. In order to get rid of this dependency, it is of prime importance for hoteliers to get customers to book online directly.
Here we have jot down a few much needed features that your hotel's website should possess and marketing strategies that might prove helpful in achieving the above mentioned.
Also Read: Online Hotel Booking Software for Stress-Free and Direct Room Reservation
Go mobile to multiply your direct booking
Mobile devices like, smartphones, phablets and tablets are steadfastly becoming a part of every human's day to day life and so, to reach out to this crowd, all you need is to make your website mobile device compatible.
Make your site easy to read and easy to pay
This will readily impress the customer and your chances of getting a direct booking done are more now.
Multiple currency support through world's trusted and widely used online payment gateways is another utile option which can simply escalate your image among foreign travelers as they will not need to go for a foreign exchange before making their payments online.
Open Door Policy
Always remember that your hotel's website should not serve as a sneak-peek rather as an open door for a visitor looking out for an accommodation space. It's the only medium which offers an insight of where a visitor is going to stay and how will it look like. So give them the pleasant feel with eye-catching photography. You can also engage users by providing virtual tours and walkthrough videos of your hotel.
Your best prices and offers should be on your site
Your hotel's website is the place where you have complete control and can decide as per your will. So deciding on rates can be done with more freedom unlike the situation in OTAs. If you have a discounted price offering in an OTA listing go for a much better discount and list it on your website.
Off-line promotions often help a lot for direct bookings:
Print medium to the rescue
While offering discounts in print ads (newspapers), you can make use of QR codes which will simplify the task for an interested customer from typing the URL to just scanning it and reaching your website's webpage instantly.
Showcase the reviews and earn the trust
A hands-on experience or a word-of-mouth recommendation from a customer is always a lot more valuable that you boasting about your specialties. A customer's review holds the same value in an online space.
Having said all these, we would also like to suggest you a single-step solution that would get all the above mentioned things done in a single click. Try out Apptha's Hotel Booking extension which has been developed with a prime motive to help hoteliers come out with a perfectly working website that would decrease their dependency on OTAs by driving direct bookings.
Related posts