Apptha designers have come up with a smart template that replicates the design and layout of YouTube.
Check link: http://www.apptha.com/category/theme/Joomla/youtheme.
The theme sports a nice online interface, just like the YouTube, thus providing ease of use and simplicity. The theme has several module settings to accomplish the user's need of setting up a complete YouTube video sharing site.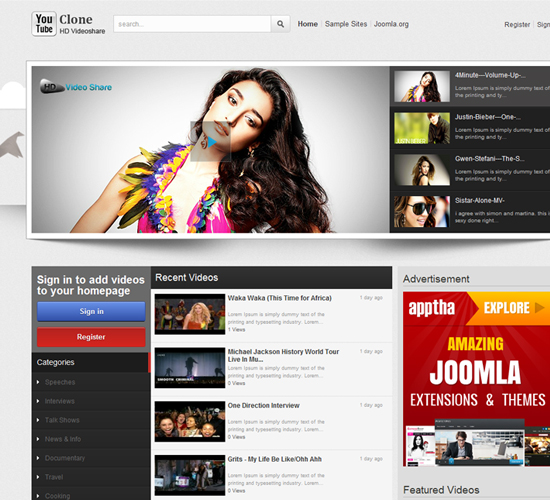 The Joomla Youtheme is intricately carved out by our professional designers, keeping in mind the niches of YouTube design. The theme embeds all utile features that are essential to satisfy the video enthusiast who plan to give their video sharing service the YouTube style.
FEATURES OF THE YOUTHEME JOOMLA TEMPLATE ARE AS FOLLOWS:
• By integrating a video sharing script like HDVideoshare, the template lets one to create a video portal similar to YouTube in minutes.
• Social share icons like FB like, Twitter, etc to let users exploit the social media
• Independent advertisement block to empower the site with monetization
• Compatible for joomla1.5, 1.6, 1.7 & 2.5
• Tableless design and 100% css based
• Upload logo in minutes
• Banner display in the homepage giving the YouTube theme a professional and intuitive look.
• Easy signup/sign in process
• Fully compatible IE7+, Firefox 2+, Firefox 3, Flock 0.7+, Netscape, Safari, Opera 9.5, Chrome.
• Easy installation and configuration process
• Custom-friendly footer option in the admin
• Admin option to add contents to the site
• Various Side Player Settings options in the admin
• Category setting such as category limit and video limit in admin

The Youtheme embeds a design that categorizes the videos as recent videos, features videos and popular videos similar to that of in YouTube. The Joomla template showcases a category list to list out the various video categories for easy classification and organization of videos. The template is innovative, classic and 100% customizable. Treat your site viewers with a highly inspiring video template just like the YouTube and start acquiring millions of user counts without much hardships.
Related posts