It's always an exhilarating experience to win a lottery or a lucky draw. Many online stores use competition module /prize draw for active consumers as a way of sustaining the costumers and generating new leads. It is now easy to start a luck draw option in your magento store with the ready to use Lucky Draw extension. This magento extension ensures a fair and transparent lucky draw process thus conferring the costumers with exciting gifts for their prolonged stay with your online store.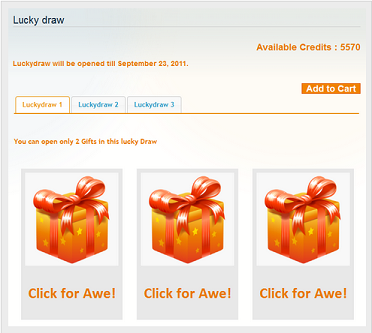 About the Lucky Draw extension, this is a sealed gift box which is believed to hold gifts. Each customer receives exclusive bonus points/credit points for each purchase. The lucky draw becomes applicable only when the customer earns the minimum credit points as set in the admin. Once the customer earns the required credit points, the lucky box is enabled to open up. The lucky draw extension works as a seasonal offer or a festival gift draw, i.e. it is mandatory to provide season period for lucky draw.
The lucky draw can be set for different levels by the store admin. The store owner sets the target credit points to be earned for the lucky box to open. Any number of gifts can be added for each level of lucky draw and allot the gifts in random or custom mode. Each level of lucky draw is set with different rule type, such as target credit points, No. of gifts in the draw, No. of gifts to be opened and so on. The customer can add the gift item to the shopping cart and purchase it instantly as the price of the gift product appears as ($) currency 0.00. This magento extension works for multi websites, thus facilitating the customer to use the earned credit points for purchase from the linked websites.
Checkout : Best Extensions, Plug-ins And Templates All At One Stop-Apptha
Utilize the wonder packed lucky draw extension and excite your potential customers by giving a chance to win lotto and grab gift from your store. To know more Click Here
Related posts