Marketplace is a script which allows multiple vendors to list and sell their products under a single domain thereby providing surplus options for customers to choose, compare and buy their desired products in the best possible price.
In simple words, Marketplace script can be used to turn your online store into a marketplace with options to have a complete control over any number of merchants/vendors and products.
How it works?
In an online marketplace, the marketplace operator acts as a middleman who connects the sellers and customers. When a purchase order is placed in a marketplace, a seller responds to it and ships the goods to the customer. The money paid by the customer is split between the marketplace runner and the vendor(s) involved in the sale.
To know the mechanism on which Apptha Marketplace works, check out the illustrative explanation provided below.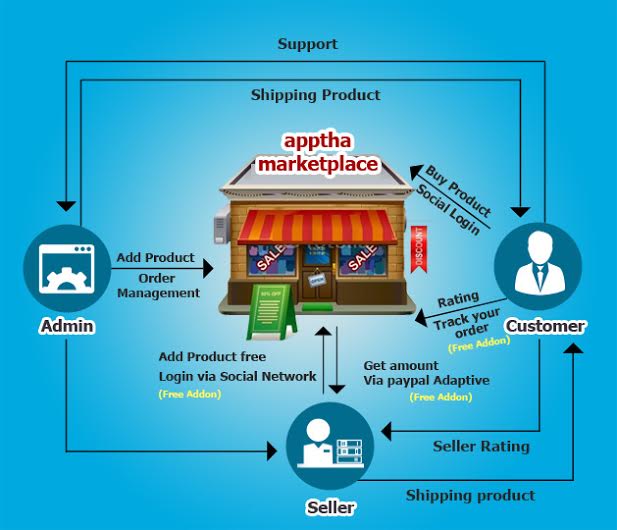 Here, each and every merchant has her/his own access credentials through which they can perform the tasks of adding, deleting products (product management), providing discounts, shipping orders, receiving payments etc with the interference of the marketplace owner in all of these.
Managing a marketplace by keeping your vendors and customers in a satisfied state is often said to be a complex and tough task as it involves management difficulties including, payment transactions, vendor management, customer management, order management etc. For this to happen, a multi-vendor store should be bestowed with numerous functionalities and features.
Also Read: Splitting Payments Amongst Multi-Vendors – Not a Trouble Anymore!
Understanding this alarming concern, Apptha has created a perfect one-stop solution that would wipe away all the management-related worries of a marketplace runner. Here we have discussed a few major functionalities that make this script a dependent one for the marketplace operators.
Vendor management and categorization:
This script provides the freedom for marketplace runners to add any number of merchants to their stores. It is the scalability of this software which enables the store owners to manage endless number of vendors and their products. The products listed by each and every single vendor can be categorized in order to present the list of available products in a clear and organized manner for the customers.
Admin Controls:-
The back-end controls for the marketplace administrator holds an array of features.
Manage Orders:
The 'Orders' tab in the admin panel can be used to filter and search for orders and find out details of its delivery status, order value, shipment details etc. Orders can be filtered based on dates, delivery status, customers account name etc.
Each and every single order if clicked will sail towards the 'Order View' page which will provide complete information on the date of order, IP details of the customers, customer's account information, billing and shipping address, payment information, the number of items ordered, comments history and Order Value (the total sum of the orders placed).
Manage Products:
Catalog information of any product can be changed by the admin through the Manage Products option. Including the name, description, SKU, URL Key, visibility admin can edit the all information easily. Moreover the ratings and reviews provided the online shoppers upon the products listed I the marketplace can also be managed effectively.
The Pending Reviews provides the list of reviews waiting for the admin approval, while the 'All Reviews' option lists the reviews including the approved and pending ones. Admin can edit any review or even simply delete it.
Manage Sellers:
Apptha's Marketplace script provides complete freedom for a store owner towards approving or disapproving a merchant. Through the 'Manage Sellers' tab, marketplace owner can maintain the critical information of a seller like Seller ID, contact info, store's name, date of enrollment, products, total sales done, payments received and pending. Admin can also set separate commissions for each vendors.
Free add-ons for added business benefits:-
For maximum benefits, this script has also been incorporated with tested and proved extensions like Social Login, One Step Checkout and PayPal Adaptive.
Social Login enables customers to link to the marketplace instantly using their social accounts.As people are more actively engaged in their social networking platforms remembering these usernames and passwords won't be a big issue for them compared to that of remembering the login details of an online store.
The One step checkout feature allows users to fill up only a single form containing all the essential details for making the payments. Replacing numerous numbers of pages with a single page will give a sigh of relief for the customers and help in avoiding cart abandonments just before making payments.
Adaptive Paypal payments will automate the complex payment sharing calculations between the marketplace operator and multiple vendors associated with the sale. This will help in saving time and eradicate delayed payments for vendors.
Controls for merchants:
Each and every single seller is provided with a separate back-end control panel through which they can add and delete products, keep track of the ordered goods, customers, Order IDs etc. 'My account' tab can be used to view the complete list of orders received so far along with delivery status reports.
Seller dashboard
Seller dashboard can serve as a quick information retrieval tool for the merchants. The Seller dashboard provides vital cumulative information like Life Time Sales (total worth of sales done so far), Average Order (Average of orders in dollars), Last Five Orders etc.
Seller will also get an update on the 'Most Viewed Product' which will help them to increase the stock for that particular product to meet customers' demands.
Theme:
Apptha has designed an exclusive theme for the marketplace script buyers. This cost-free theme is designed in a single column layout for the Home Page and product detail page while the category page gets a two column layout. This theme has been designed for quick loading time and to display the products and product information in a clear and organized manner.
Sell more than products:- (digital goods)
Multiple product types:
Apart from selling physical goods, sellers can also make use of the multiple product type support namely 'Simple', 'Virtual' and 'Downloadable' to sell digital goods like games, softwares, Ebooks, themes, extensions, plug-ins and templates.
Seller friendly URL:
This marketplace script can be used to generate URL for the vendors based on the name suggested by them. This will help in improving the web visibility of the merchant and eventually result in domain strength and branding of his/her store's name.
Easy steps for installation:
The marketplace script can be installed onto your system by following a few easy steps.  After purchasing the extension from apptha.com, kindly go to My Account-> My Downloadable Product for downloading the package. After downloading it, Log in to the admin panel of your Magento site.
For Magento 1.5 and above versions go to System-> Magento Connect-> Magento Connect Manager and upload the package.
For Magento Versions below 1.5 :Unzip the package files and paste it from the root folder.
Related posts