IPTV or Internet Protocol Television is the technology where digital television programs are delivered to the customer through IP technology with the help of an internet connection or broadband.
From 2020 to 2027, the global IPTV market size is expected to grow at a CAGR (Compound Annual Growth Rate) of 7.1%

Source: grandviewresearch
This system facilitates a more effective content distribution for the providers. With the telecom operators integrating their services with internet packages, the growth of such technology is helping the development of internet infrastructure.
What is IPTV Platform?
IPTV uses the Internet Protocol language to convert the content into 'transferring data packets' which will later be delivered to the consumers with the help of web services. Unlike cable or satellite programs, the videos and data are stored on servers and accessible by the users at any time when they request it.
The working mechanism of IPTV platform is that the stored content from the servers is transferred into data packages when the user places the request and is sent through the internet.
The video servers will then transmit it through the optical fiber cables to the user's home network and then to the set-top box and the television or computer. This whole process works only when the user demands a particular video, otherwise, these data are stored in the server until someone asks for the same.
Why You Should Start IPTV Business?
The online entertainment industry was already on the rise when the global pandemic hit. When people were confined to their homes, their only resort was digital entertainment. The higher demand naturally accelerated its growth making it a wonderful opportunity to start a business in this field.
An IPTV solution for businesses should also be able to deliver high-quality playback at the user-end with easy-to-use features for the customers.
The main advantage of starting an IPTV business in this area is that it helps reach a wider audience

It gives more choices on how to market the content

There are also multiple options such as subscription-based services, digital downloads, live streaming on a paid basis, etc
Can choose one of these monetizing strategies or go for any combination as needed.
Business Benefits of IPTV Service
The fact that the IPTV uses the integrated services of the internet and various devices in itself is its biggest advantage. From a business aspect, there are more benefits to looking for an IPTV OTT solution. 
Internet Protocol technology requires one cable for television, telephone, and internet
It does not need a new cable and can also work with existing network
The digital TV will be available in both SD and HD qualities
IPTV server software delivers both live and recorded videos
The customers can easily request a video or check the recommendations as well
It is compatible with both computers and television
The programs are 100% adjustable to suit each user or a group of users
Can easily integrate camera systems in the same network and provides central interactivity for all aspects
Provides remote access for both maintenance and management
The programs can be paused, rewinded, forwarded, or recorded as & when needed
The user-friendly program guide gives the overall view of all the programs available on all channels
Most importantly, the IPTV solution is a more economical alternative than other digital entertainment options so that it can easily gain more customers
Features That Shape Your IPTV Platform For Next Level
The perfect IPTV plan is the one that offers an end-to-end solution with all the features for content preparation, efficient delivery, smooth management, and monetization options.
Here are the most important features required to make your business platform.
'Live Transcoding' Feature to create and deliver high-quality videos in different resolutions without any delays on multiple devices. It provides the services for live streaming as well as any events and the opportunity to watch it at a later stage, with options such as pause, rewind/fast, forward, record, etc.
Multiplatform: The IPTV service providers must ensure that the content is viewable on multiple platforms such as a TV, Computer, smartphone, mobile & other OTT devices etc.
Monetization Tools: The IPTV solution providers must give options to establish various video monetization platform streams using the VOD packages, channel packages, ad insertions, prepaid cards, etc.
Middleware: The middleware services must be able to effectively manage the whole system. It should have control over the content creation, subscriber management, monetization tools, performance insights, for business creators.
Video on Demand: Automation of the video on demand platform content concerning its creation and storage makes it more flexible for beginners. The IPTV service providers can then prepare it for adaptive streaming in various formats or qualities, at any time they deem fit.
Adaptive Video Streaming uses the streaming server software to transfer videos for the source to the users as high-quality videos on any geographical area without buffering.
White Label IPTV solution helps to create a brand under the provider's ownership so that the users or subscribers can easily see or find them.
How to Build Your Own IPTV Platform?
This emerging technology is a fast-growing industry with higher business prospects. If you are interested in building an IPTV portal, you need to be aware of the important technical components that are crucial for this system.
The best IPTV platform will have these components. They are:
Middleware is the most important component as it works as the link between the provider and the IP set-top box of the user.

Media Player: A high-quality, easy-to-use Media Player for the users to view the delivered content.

Smart TV Application: Create OTT app to enable Smart TV viewing for varied platforms like Ios, Android tv apps, etc.

Application for mobile devices: Similar to that of the Smart TV one must also build an IPTV app for Smartphones, tablets, and other mobile devices so that the streaming videos can be viewed on any platform.

Set-top-box is an integral part of the smart IPTV solution that links the Middleware to the users.

Content Delivery Network or CDN delivers the online content from the servers to the specified network to help them reach the user.

Custom Interface to match the brand or business which is easily recognizable and usable by the end-users.
World's Best 5 IPTV Solution Providers in the Market
Now that you know what to expect from the IPTV business and what are the required components to start such a business, you need assistance from one of the best. They can help manage the pre-launch processes, and quality delivery with assistance to make IPTV apps and other features.
Here is the list of the best IPTV providers that you need to be aware of.
1. Matrixstream – Best IPTV App Provider
Matrixstream is one of the best IPTV service providers that is available in all major stores.  with fully integrated OTT streaming in UHD. This IPTV solution easily enables the service providers and telecom operators to start their IPTV business instantly. Their core technologies include the IPTV Head-End traditional deployment model or the SaaS deployment model.
Their additional features are:
MatrixCast IPTV OTT Streaming Technology
MatrixCloud IPTV Solution
MediaMatrix Third-Party Application API
MatrixCrypt Pay-TV DRM
MatrixCast 3D OTT Streaming Technology
MatrixCast Ultra 4K OTT Streaming Technology
MatrixStream Network DVR Solution
MatrixStream Geo-blocking Technology
MatrixStream e-commerce IPTV integration
MatrixEverywhere PC Android IOS video clients
MatrixManage IPTV Control Management System
MatrixStream IPTV Web Portal Deployment
2. Muvi – IPTV Platform Builder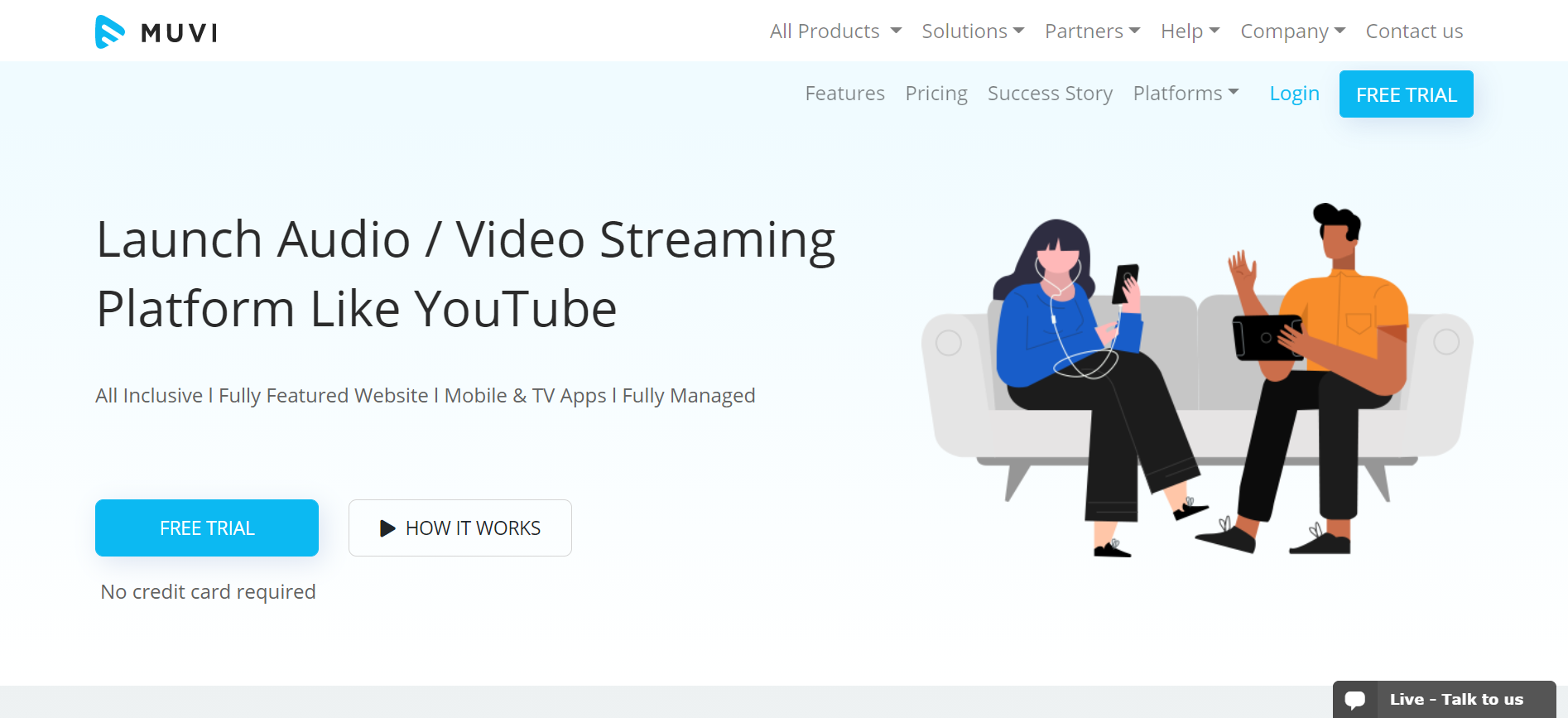 Muvi is the best IPTV solution that offers everything needed for the launch of your services that can be viewed on websites, mobile devices, and TV. This all-in-one platform allows the launch of a White Label video streaming platform without any coding. The services include the availability of built-in infrastructure features such as transcoding, cloud hosting, and online video player. There are more than 500 features for the management, as well as the built-in monetization options too.
Muvi Is perfect for:
Live Streaming
Video On Demand
Audio or Music streaming
Live broadcast
3. Setplex – Top IPTV Business Solution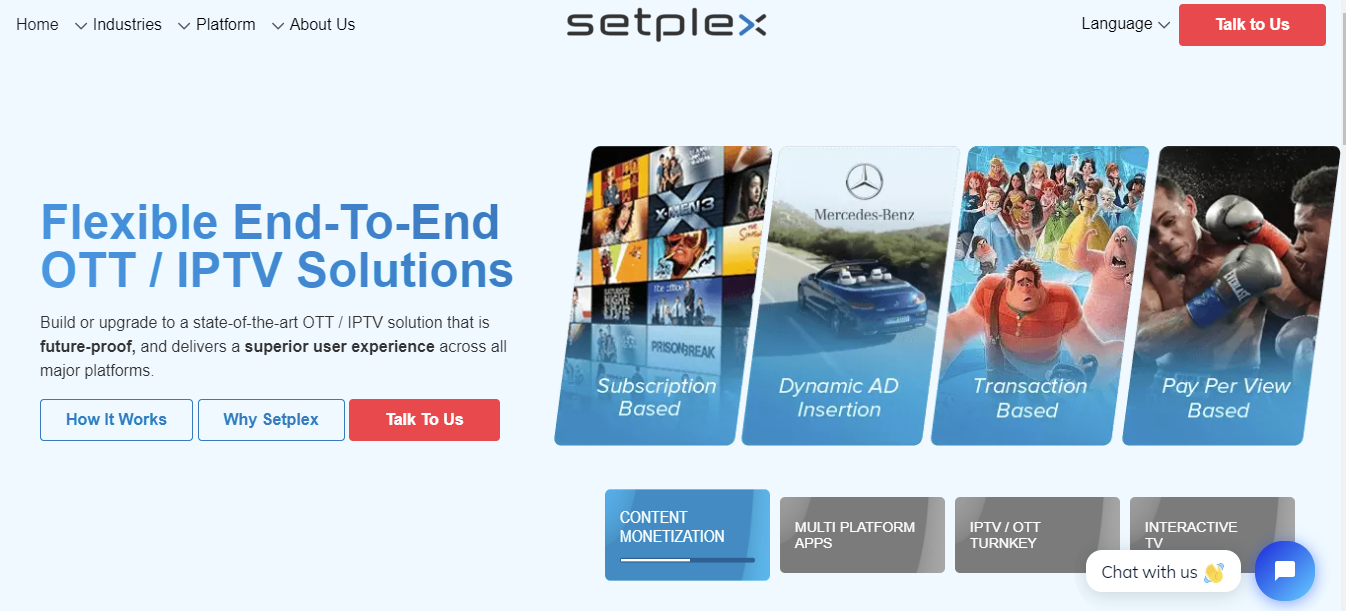 Setplex facilitates a flexible one-stop shop to build your IPTV service from scratch and deliver it to the users across multiple platforms. It provides various monetization solutions for content suitable for content creators, OTT operators, MSOs. broadcasters, etc. It also provides the top IPTV and OTT app that is available in all major stores. 
Major Features:
Scalable IPTV/OTT Middleware
Ingest and Transcode
Multi-screen app
CDN
Security/DRM
Real-time Analytics
---
---
4. NetUp – IPTV Software Provider
NetUp is a TV solution for the service providers where they can acquire, create, as well as deliver content with added features and services. Their headend video servers allow you to stream, create, or embed videos/programs in your own or TV channels. It also enables VOD Movies and TV shows.
The other features of this OTT/IPTV platform are,
UDP Multicast in managed networks
Adaptive broadcasting
Deliver recorded TV programs
Content viewable on TV, mobile devices, web application, etc
Paid service billing for the providers
E-commerce, goods, and catalogs for the subscribers
Media management system
5. Telebreeze – IPTV Broadcasting Solution
Telebreeze offers a complete IPTV solution from creation, delivery, and management systems. The users benefit from the quality playback player. The biggest advantage of this IPTV solution is that they are suitable for newcomers who want to launch their platform, help manage an existing platform, or monetize the already launched IPTV services. They also offer a 3-year warranty for their services and a 30-day money-back guarantee in case of dissatisfaction with their work.
Their major features are:
Live transcoding
Multi-Platform
Middleware
White Label
Monetization tools
VOD
Adaptive video streaming
Customer support
Conclusion
The key to a successful IPTV business is the choice of the best platform provider. Each of these solution providers has its beneficial features. Your success depends on you getting the best features that are suitable for your business. To ensure the same, a thorough study of these providers is needed.
The best video streaming platform provider is the one that can provide all the integral components and make them customizable for your business. The flexibility to develop IPTV apps is a definite requirement but getting one that is usable or available on multiple platforms is an added advantage.
So, glimpse through market research completely to create content, build the platform, deliver it to the customers and manage your business seamlessly.
Frequently Asked Questions (FAQ)
1. What Is IPTV Platform?
IPTV software is an advanced streaming set box through which it is foreseen how people will receive & watch data and entertainment content in the future. Internet Protocol television or IPTV provides reliable and up-to-date services with customizable UI. This technology doesn't require traditional cable TV or satellite signal support.
2. How Does IPTV Work?
No wonder IPTV solutions efficiently deliver content delivery concisely & facilitate the freedom to users of accessing their favorite videos anywhere, anytime. Unlike traditional TV where current broadcasts can only be available with limited control, the software of IPTV delivers digital content in packets that are compressed & streaming playbacks are made adaptable.
3. Difference Between IPTV & OTT?
Key differences between OTT & IPTV services are: The content in OTT is delivered through publicly accessible internet which is an unmanaged network. On the contrary, in the IPTV platform, the content is delivered to computers that are attached to networks based on Internet Protocol. Besides that, in OTT it doesn't require a dedicated broadband connection, whereas with IPTV content it is transmitted over a set-top box & is considered as the primary need to avail services.
4. What Are The Benefits Of IPTV Platform?
You can build your own IPTV streaming platform and leverage on essential benefactors like providing uninterrupted streaming connectivity with high-quality videos, multiple content streaming in varied devices, transitioning TV digitization with the best-advanced servers that can help you to connect with your audience, showcasing a variety of content.
5. What Are The Main Reasons To Start IPTV Services?
Some of the prime reasons for you to create your own IPTV network with the best IPTV solutions are: You can zero down to video buffers in between & enhance quality streaming supported with flexible download speed. Apart from that, high-speed internet allows you to broadcast your content across any device & generate revenue with flexible monetization models.
6. How To Generate Revenue From The IPTV Channels?
You can quickly stream solutions from IPTV, which can be labeled and branded according to your preferences. You can earn money from your content's popularity in addition to streaming them to the rest of the globe. A number of monetization options that can let you earn ROIs every time when someone looks at your material are Advertising, Pay-Per-View Events, Monthly Subscriptions, and a variety of other VOD services available.