"By 2020, mobile commerce will make up 45 percent of total e-commerce, equaling $284 billion in sales – businessinsider.com"
Mobile commerce is the new ecommerce. Clicks and swipes are the user actions that determine ecommerce sales, thanks to the evolving mobile technologies. With surplus technologies and mobile commerce app development service providers, finding the best among them to build Magento mobile app has become a strenuous task.
Here we are to render a helping hand to find the best mobile commerce app development solution that can get you to market soon and promise of uncompromising performance.
Where to Start for a Mobile Commerce App Build?
Taking the ecommerce platforms into consideration first, the demand for Magento mobile commerce app building solution is on a high as it is the highly preferred one.
The Best Way to Build your Magento Mobile App
Going for custom development demands time, effort and 100% dependency over the development team and opting for a readymade mobile application deprives you of uniqueness and independence in all angles.
The best thing to do is to find a ready-to-go Magento mobile commerce solution as you'll have the advantage of quick build, less time-to-market, room for customization, technology integration and of course, uncompromising performance for being native.
Read : How to Create Messaging App like Whatsapp?
Why Contus M-Comm? / Which Solution Should I Zero in On?
Contus M-Comm is a readymade framework the catalyzes your efforts to build Magento mobile app. This platform-specific mobile commerce app solution is 100% customizable and can be customized to any extent to build the best magento mobile app that can reward an unique you experience.
Here is why we suggest Contus M-Comm for your Magento mobile app build
100% Customizable
Contus M-Comm is built for adaptability and so it can house add-ons, integrations, functional and cosmetic changes at ease. Third-party technologies, downsizings, tweaks, payment gateways and much more can be of your choice when it comes to structuring the best magento mobile app for your business.
Let your Customers Engage
Visitors are more likely to go for a purchase if they get to have a chat with or recommendation from friends. Build Magento mobile app a real-time chat environment where they can share, suggest and discuss over buying a product of yours. You get to turn more visitors into customers and your traffic skyrockets significantly.
Simplifying Navigation within your Mobile Apps
Deep linking makes sure your customers directly land into the product detail page they are looking out to buy without diversion. If your user have your app installed and have stumbled upon a product in your website via search engine, deeplinking takes the user directly to the product's web page upon a clicking action. If your app is not pre installed, deep linking notifies users to install your app.
Ecommerce-friendly
Pre-loaded with a stack of ecommerce rich features, this native magento mobile app building solution comforts any type of ecommerce business owner right from the word go. Simple check-out, multiple payment gateway support, synchronous & smooth order processing, simple navigation and many other which an online shopper would love is already in your list.
Push Notifications
Push Notifications are the prompt message carriers. Be it discounts, deals, alerts, sale or reminders, push notifications get things directly to the fingertips of your customer base thus reminding about your product or service time and again.
Promotional Mechanisms
Customer loyalty programs, subscriptions, registrations, free giveaways, rewards for affiliates, regular purchases, discounted price for bulk purchases and the list goes on… Promotions of any sort can be done using your Magento mobile app to retain your loyal customers and turn them into brand advocates.
Multiple Language and Currency Support
Accommodating any language of your choice or for the sake of your customers is not an uphill task with Contus M-Comm. It is built to support multiple language and when it comes to payment convenience, apart from multiple payment gateway support, your mobile app can support all widely used currencies to ditch out the dependency for currency conversion.
Synchronization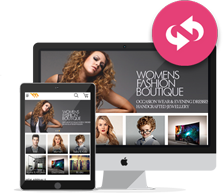 Have both the sales channels, ecommerce store and mobile commerce app, in perfect sync. A single interface (ecommerce backend) gets your inventory, orders, information upload, product details done on either sides thus ultimately reducing your effort.
Building a Mobile Commerce App for Qatar's Sport Retail Major
Sports Corner approached Contus to build a native Magento mobile app on iOS and Android to improve their sports gears retailing business that's happening across 17 outlets in Qatar. Contus M-Comm came into play and was customized to the specification of Sports Corner.
Platform – Native magento mobile app on iOS and Android
Store locator – To find the 17 retail outlets of Sports Corner located in Qatar
Trainer consulting – On-demand consultation for personal trainer, physios
Publicizing events – A platform for publicizing sporting events and happenings
QR code – QR code for smartphone dependent shoppers
Smart Search – Smart search and advanced filters to locate products easily
Having said this, Contus M-Comm offers loads of options among which you can pick the appropriate ones for your business' mobile app. Planning to build a mobile app? Do it the right way with Contus mobile app development company.