We are delighted to announce our venture into Prestashop extension development. Our remarkable success in developing extensions, plug-ins and themes for popular CMS like Magento, WordPress and Joomla inspired us to step into Prestashop with the release of Out-of-stock notification extension in Prestashop CMS. Click here to view: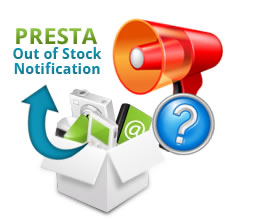 http://www.apptha.com/category/extension/Others/presta-out-of-stock-notification
About Out-of-stock notification Module:
The out-of-stock notification is a stock availability notification module.ie. Once the Prestashop store owners integrate the module in their store, it starts showing a product quantity status such as in-stock/out-of-stock for the products that the customers attempt to purchase. For the out-of-stock products, a message box, Notify Me button and Enter Your Email text box appears intimating the customers to enter their mail id and get notified through email when the out-of-stock product is updated in the stock inventory. The consumers can choose to get email alert when the product quantity is validated to in-stock for future purchase or simply ignore them.
The Prestashop out-of-stock notification module helps you
- Show an error message (out-of-stock message) when the customer attempts to purchase a product which has zero quantity in the stock inventory.
- Suggest the customer to get an email notification when the product quantity is updated back to in-stock.
- Allow the customer to request for notification of stock availability by entering their email address.
- When the stock quantity is increased and returns to the status "in-stock", an email indicating the stock availability is send to the customer's email automatically who all have requested for notification
- Win back your old customers/ get connected with your existing customers who have intended to buy from your shop and withdrew due to stock unavailability.
Purchase the Prestashop out-of-stock module and enhance your web store usability to drench in the rain of sales!!
Related posts