We are happy to announce our first extension for the Magento Enterprise Edition with the release of One Step Checkout Enterprise extension : http://www.apptha.com/category/extension/Magento/OneStepCheckout.Now all the Magento Enterprise users can enable one step checkout process in their shopping cart and elite the customer shopping experience.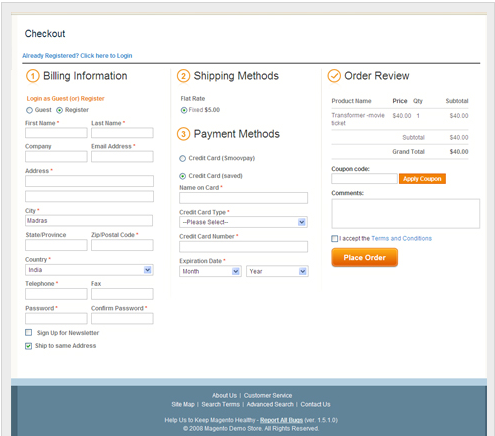 The One Step Checkout Enterprise Extension incorporates features that are utile and inevitable.  The extension plays a crucial role in reducing the shopping cart abandon rates due to complex check out process. The decreasing shopping cart abandonment eventually increases the store revenue and the one step checkout extension is the perfect solution for all those store owners who are willing to experience astounding sales for their store as well as wipe out the shopping cart abandonment.
Checkout : Get Offer for OneStepCheckout for Magento
Highlighting few eminent features that make the one step checkout extension useful and valuable:
- Shorten the Magento multiple steps checkout process to a single step. Just few clicks to complete the purchase process.
- Enables users to add more products to the cart whilst in the checkout page
- Auto list the relevant product details (price, total, taxes, etc) par with the shipping/payment method chosen by the consumers.
- Show coupon code, newsletter subscription, gift options in checkout page
- GeoIP feature to fetch the country and city automatically.
- Customer can post/comment views before place order
- Show the One Step Checkout below cart for more user-friendly interface.
- Customer can avail guest checkout/ register to checkout
- Customer can register while placing order
- Install and configure in minutes or less.
The One Step Checkout extension for the Enterprise edition comes with higher level of support and care. Get the enterprise compatible edition of one step checkout from Download One Step Checkout for your Magento Enterprise store and start earning amazing revenue for your store.
Related posts