Smart phones are revolutionizing the way we work. With the concept of BYOD (Bring Your Own Device) becoming increasingly popular, Smartphones are being designed to handle more and more computing needs. As a result, the bulk of computing for simple and day-to-day functions has shifted from laptops and desktops, to smartphones. Tech-savvy users like software developers are already using their smartphones for most of their information and transaction needs, and relying on laptops and desktops only for pure software development.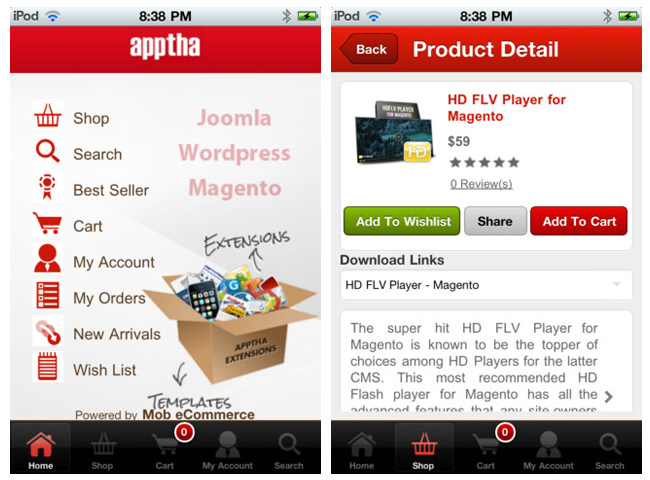 Recognizing this trend, Apptha has launched an iPhone app that will help the developer community purchase Apptha extensions from their iPhone, while on the move check link http://itunes.apple.com/in/app/apptha/id489819275?mt=8. Apptha is part of Contus Support Interactive and develops application extensions for CMS and E-Commerce websites. There are innumerable extensions for various technology platforms, and these help make CMS and E-commerce websites smarter, easier to use, and well-integrated with social media.
Hitherto, information on these extensions was available on Apptha's website as individual product pages, from where one could even purchase the extension. Now, with AppStore, the same information is neatly organized and available on an iPhone.
The extensions are divided into various categories and carry a brief description. A software developer can choose the extension(s) he needs, add them to the shopping cart, make the payment, and check-out. He/she can also login to his/her account and see the payment information. While descriptions are useful for those who are not familiar with the extension, a search feature is available for those who are familiar.
Features:
• Purchase Apptha extensions while on the move
• Apptha extensions divided into categories
• Share information about the purchase on social media
• Login into account and find status updates
• Descriptions available for every extension
• Search feature to search for extensions by name
A similar application was developed for Android based smartphones, recently.
The AppStore has demonstrated Apptha and Contus' commitment to making developers' lives easy. While the extensions themselves save developers the hassle of developing code to do a particular function, the AppStore makes the process of purchasing these extensions easy, while on the move! This is a benefit that cannot be found even with several of the leading software product companies of the world.
To conclude, it's interesting to note how previously, the form factor of smartphones was touted as a limitation at every step, for making information available on smartphones. Through the AppStore, Apptha has demonstrated that if information is organized and presented smartly, form factor need not be a limitation. In the long run, this helps strengthen the case for mobile computing, and making the mobile phone – one's default device.
Related posts