Video sharing site is an excellent destination that connects all music lovers around the globe. YouTube is the most popular, pioneering in the club. Following YouTube's fame and success, heaps of video sharing sites and clones of YouTube are being launched, entertaining the music lovers worldwide. If you own music club/music band/choral group/music experts and like to have an online presence, it's even simpler than what you think.
The internet epoch and CMS trend makes your dream of building a video sharing site into reality. You can build your own music website in minutes with a life giving template and video gallery extensions. WordPress and Joomla are two CMS ideal for setting up a music site due to its highly flexible and open source features, user friendly interface and easy maintenance. The website should be communicative and visually attractive to sustain your website followers.
Music Theme For Joomla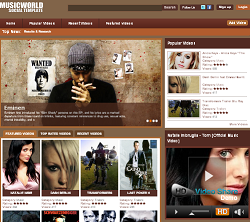 If you have decided on a joomla powered website, HDVideoshare is the best fit component that caters your need: http://www.apptha.com/category/extension/Joomla/HD-Video-Share . This highly attractive component has an inbuilt HDFLV Player which is popular for its high quality audio and video output. The HDVideoshare component enables to categorize the videos into various modules such as Featured videos, popular videos, recent videos, related videos and so on. A premium music theme will boost your video gallery to a complete music portal: http://www.apptha.com/category/theme/Joomla/Music-World The Music World theme has an enticing look with attractive banner image and category tabs as modules for displaying related topics. Adding the HDVideoshare component to the music theme guarantees you the chance of owning a music related website with high quality and distinguished design.
If WordPress CMS, the conqueror among CMS for creating personal blogs/websites is your platform, WordPress video gallery plugin is the perfect choice: http://www.apptha.com/category/extension/Wordpress/Video-Gallery. The plugin very effectively manages huge amount of videos, categorizes the videos in gallery format that caters the need of music sites. You are able to handle loads of video contents with absolute clarity and smartness.  To complement your video sharing site for wordpress, employ Musix, a vivacious wordpress theme: http://www.apptha.com/category/theme/Wordpress/Musix . The theme, with vibrant design and eye popping layouts entails all music lovers to share their passion for music with more interest. An adorable theme with social features makes your website completely interactive and full of life.
The premade templates and extensions are indeed a blessing,  as they come with esthetic design and features and do the job for you in few clicks.
Related posts