Apptha has come out with a new bundle offer Magento Power Pack to Magento e-store owners to boost sales, by combining 5 powerful extensions for Magento, into one combo pack. check link http://www.apptha.com/magento-power-pack These products which total upto USD 325 are now being offered at a never-before discount of 30%. Each of these products add value to both an online buyer, as well as the e-store, by making the e-shopping process more speedy, more convenient, more social, more organized and more well-managed.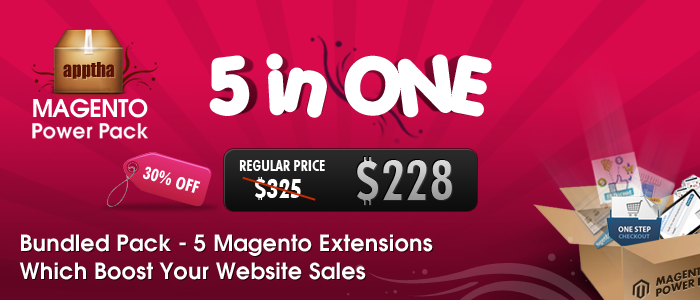 The products are :
- One Step Checkout

- Out of Stock Notification

- Easy Ajax Cart

- Facebook Social

- Magento FB Discount
One Step Checkout
Apptha's One Step Checkout Extension for Magento is all about completing the checkout process on a Magento E-Commerce store in the shortest possible time. The least number of fields of information that is required to complete a checkout have been identified and integrated on a single page. This makes typing or editing the data quick and convenient.
Features and Benefits
- All screening Information, appear before placing order
- Last minute additions to the cart are possible
- Auto-update feature to add to the convenience
- Coupon codes integrated into the checkout page
- Country customization
- Layout customization
- Ease of installing
- Adequate documentation
For more info on the product, visit http://www.apptha.com/category/extension/Magento/OneStepCheckout
List Price: USD 59.00
Checkout : Simplify Your Checkout Process With OneStepCheckout Extension
Out of Stock Notification
Out of Stock Notification is all about smartly managing buyers' enquiries. While most e-stores are prompt in mentioning that a product enquired for, is out of stock, very few have the insight to inform the buyer when the stock is available. This extension from Apptha for Magento precisely achieves this. Customer's email ids are captured when an Out of Stock message is flashed. When the Out of Stock" products shift to "In Stock", the customers are promptly notified by email. Store owners can even personalize the email message by editing the default email template provided in the admin module. The extension is simple to install and configure, and comes with an easy back-end.
Features and Benefits
- Shows a message in the products detail page indicating the customers to request for email notification when the stock availability changes from out-of-stock to in-stock.
- Add customized message for notification, and notification response
- Enable/Disable the out of stock notification option in admin
- Shows the customer list who have requested for notification in back end.
- Option to store/delete the email id of the notified customers from the database.
- Set default email template/customized email template for the notification mail sent
- Out of stock notification support for all product types available in Magento: Simple Product, Grouped Product, Configurable Product, Virtual Product, Bundle Product and Downloadable Product
For more info on the product, visit http://www.apptha.com/category/extension/Magento/out-of-stock-notification
List Price: USD 49.00
Easy Ajax Cart
Most e-commerce stores capture user information to begin with, and as and when the user moves through various product categories, and adds items to the shopping cart, he/she may have to reload the page time and again to ensure all the items are checked into the cart, and nothing is missed out. This takes away the fun of e-shopping. That is why Apptha has come up with the Easy Ajax Cart extension for Magento, where-in the user can add or delete items from the shopping cart easily, without having to reload the pages continuously. This can be done both – throughout both during the shopping process, and on the final check-out page.
Features and Benefits
- Allows customer to add product to cart in a quick and efficient way.
- Updates the quantity and recently viewed products in "my cart" without reloading.
- User can add Product to cart without redirecting to Shopping Cart page. Hence, no unnecessary redirects.
- Shows 'successful addition' message after product is added to cart, with the option to "Continue Shopping"
- Based on an admin configuration, selected cart items will be listed serially without reloading the shopping cart
- User can delete/remove products from the cart, on the Shopping Cart Page, using Ajax request.
- Allows users to change quantity with just one click, remove items from and update – the cart, remove products from sidebar cart and shopping cart page without reloading the page
- Multiple-store and multiple-language store supported
For more info on the product, visit http://www.apptha.com/category/extension/Magento/Easy-Ajax-Cart
List Price: USD 59.00
Facebook Social
E-commerce stores getting onto the social media to promote their products seems like an obvious thing to do. However, not everybody could get the process right. All that has changed with Apptha's Facebook Social extension for Magento stores where-in Facebook has been seamlessly integrated into the stores' product pages making the whole process more convenient to the user, and hence hugely profitable to the store. Store owners can effortlessly integrate the product pages of the store into the social graph with Facebook's Open Graph protocol, which helps them target a large buyer base through schemes and promotions, as well as generate new fans and customers in a viral fashion. Customers just need to 'Like' their favorite products in the store's pages, and share the product details on their FB wall.
Features and Benefits
- User login and sign-up using Facebook account
- Post on customer's Facebook wall
- Auto update of product details on customer's wall after Share
- Privacy settings for user
- Easy localization and customization with language file
- Supports Facebook wall features to share product details such as Like Button, Recommend, Show Faces, Layout Style Features, and the Comment feature in the e-store page(s).
For more info on the product, visit http://www.apptha.com/category/extension/Magento/Facebook-Social
List Price: USD 59.00
Magento FB Discount
Facebook users are very likely to share information about new product they purchased, or attractive discounts availed, to their contacts. This brings in a whole new lot of eyeballs to a manufacturer. However, if the user does not make a mention about it, this advantage is lost. The Magento Facebook Discount extension prevents such an eventuality, by combining both the discount, and the Facebook update, in one go. In addition to increased sales, what the Magento Facebook Discount extension achieves is the ease of announcing new product launches, new offers, new product upgrades etc by directing buyers to a manufacturer's Facebook fan page. This is a better option than electronic direct mailers or printed collateral.
Features and Benefits
- "F like" button displayed in Cart page
- FB Discount can be enabled/disabled
- Admin can change discount amount as per the e-store's wish
- Admin can provide the Facebook page link which the store wants the user to 'Like'
For more info on the product, visit http://www.apptha.com/category/extension/Magento/Magento-FB-Discount
List Price: USD 99.00
To conclude, one can say that Apptha continues to lead the way in increasing adoption of E-commerce by creating various applications, and promoting the same. These measures help make the e-commerce platform more easy to use, and a lot more cost-effective than physical store fronts.
Have questins? Call us by phone (+1-718-717-2229) or through the website www.apptha.com.
Realated Posts