The online news portals serves several purposes like sharing knowledge, information, current happening around globe etc. Online media is a one stop spot that provides valuable information and latest news on diverse matters and interest that attracts people from different walks of life. The success of online news magazines such as Huffington post is its easy accessibility, user friendly search, show latest news as per user interest, breaking news updates and monetization space.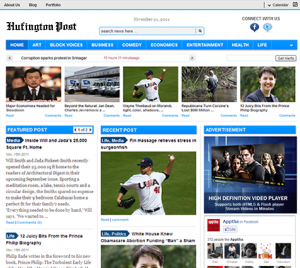 Create your own Huffington Post style- Top Headline in the front and independent widgets for featured post, recent posts etc with our new WordPress template called Huffington Post . The WordPress theme clones the entire design of the popular American politically progressive online news website- Huffington post. Once the WordPress theme is installed, you can simply drop in your images and contents in the required position, thus helping you to complete the task of publishing the look alike of Huffington post in few minutes.
The template design is based on fixed layout with separate widgets for posting latest news and updates. You can see in the Demo , how great it looks with all the newsy images and scripts. The template provides a separate widget for ad space to monetize with your publication as you see in the Huffington post. The theme is provided with individual facebook widget and social icons to connect with the social media network. It's great to use an instant theme where all the hard work is done for you. Buy Now and Use the expertise to publish your own Huffington post.
Related posts