Engaging customers to business is the key to success and ecommerce isn't an exception to it. It all depends on how well you figure out your target audiences and how you guide them through the marketing channel chosen. Nothing can better social media sites, especially when it comes to marketing and engaging customers with your business. Well, apparently your next question would be with too many social networks to choose from, which one to go for and why to choose it?
This is quite common and the answer isn't the same for all businesses. But, according various reports, Facebook is proved to be a best marketing channel having the ability to improve conversions. Why to integrate Magento store with Facebook? Find out the reasons below.
Also Read: Why Top Brands Adapt to Facebook Store?
Why Facebook for Magento ecommerce marketing?
I've provided below some breathtaking benefits of Facebook which when explored for your ecommerce needs can easily rain money for your business.
821 Million monthly active users
710 Million daily active users
99% Brands prefer Facebook over Twitter, Pinterest, etc.
80% Customers use Facebook daily
30% In-store purchase happen via Facebook
25% Customers purchase products stalled in Facebook
60% Customers buy products via Facebook and share it on Pinterest and Twitter, etc.
The facts about Facebook marketing benefits are never ending. However, I believe the facts from various sources furnished above would help you realize how beneficial it'll be selecting Facebook for your marketing prospects.
What is the best way to market your products via Facebook?
Well, you can market your products by different means. But, as we are concentrating on the best way, I'd recommend setting up your store front on Facebook page. This is a brilliant option to leverage the incredible client base of customers. It has been reported that 68% of B2C companies and 41% of B2B companies have garnered more sales and conversions via Facebook stores.
If you really want a real-time example, find the image of Nike's ecommerce store on Facebook below.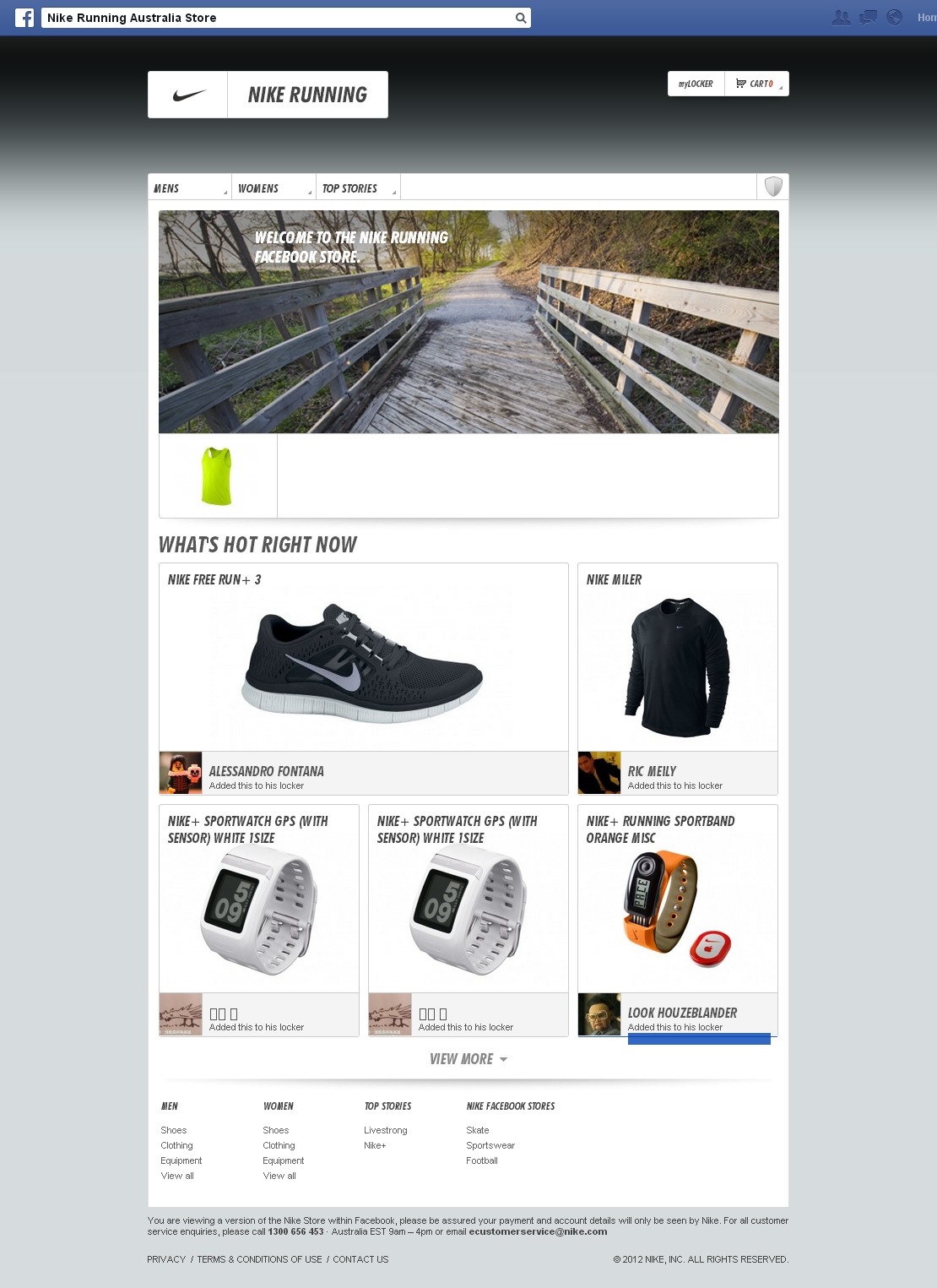 So, why not set up your products page on Facebook?
How to integrate your ecommerce product page with Facebook?
To achieve this, you've two options.
hiring a Magento developer,
using Magento extension.
Let's decide which best suits your requirement. First option isn't a bad idea but takes a lot of time and cost. You might have to search a developer explain what and how exactly you want your Facebook page displaying your products, etc. But, the second is the easiest option as it can provide you instant access to set up your Facebook page. So, eventually you would save a lot of time and money.
Is there any Magento extension exclusively designed for this purpose?
Of course, you've one: Magento Facebook App.
On deploying this extension on your Magento website you could easily run your store on Facebook by displaying your products with recommend option. This could easily make your product go viral in no time. This extension offers some diligent features which can be noteworthy in promoting your business to next level.
So, waste no time, grab this extension and start exhibiting your products via this popular social medium and start experiencing massive conversions and sales.
Impressed and want to learn more about this product?
To find out more details about this product and to download, click here: 
To experience the functionality of product virtually, click here for the live demo: 
Related posts